Over and Out...
Reading v Q.P.R.
So here it is, the last game of a 'different' and disappointing season, and what a game to finish with. We were kindly invited to Reading's promotion party and yet again, our last game is away. We haven't had the very last game at home since 1999 and it's wearing a bit thin now. Five of the gang made the short trip up the M4 for this one and it was great to see, and welcome back Alan from America. We also all made sure we were all suitably dressed in 'proper' Hoops!!

The Gang: Lofty, PK, DJ, Corporate and Al

Onto the game and Rangers were in the mood to spoil the party. Reading looked dangerous everytime they came forward, but it was Rangers who should have had the lead. On 33 minutes, Richard Langley, one of many playing his last game for the R's, headed a rebound over the bar from 10 yards out. Reading then went on to make Rangers pay with Paul Kitson tapping home on 40 minutes.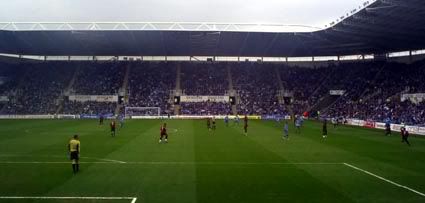 Rangers continued to hold their own and when Ray Jones was introduced on 68 minutes, the game changed. Jones caused Reading all sorts of problems and on 72 minutes, nodded down superbly for Furlong to level the scores.
It was no more than Rangers deserved on the day. But in typical fashion of how this season has gone, Reading were awarded the most dubious of penalties. Langley was cruelly adjudged to have handled in the box and Murty fired home the resulting spot kick.
Final Score Reading 2-1 QPR
QPR: P Jones (Cole 46), Bignot, Milanese, Shittu, Ainsworth, Santos, Cook, Bailey (R Jones 69), Donnelly, Furlong, Langley. Subs Not Used: Evatt, Munday, Howell.
So the whistle finally blew on our season but Rangers deserved much more today. It was sad to see George Santos and Richard Langley play their last games for the club. But was encouraging to see the up and coming stars like Donnelly, Bailey and Jones play so well and look so comfortable, against what is now, Premiership opposition.
I would like to take this opportunity to congratulate Reading and Sheffield United on the promotions.
Pie Rating
- good, but not quite good enough. Corporate(steak and kidney) 8.25, PK(balti)8 and Lofty(balti) 8.5 - giving the Reading pies a rating of
8.25/10
©LOFTY