Everything But...
QPR 0-0 Sheffield Weds

Rangers second half dominance was again, not enough to bring maximum points this afternoon as two in form teams, played out a goaless draw. But quite how the game ended 0-0 was anyones guess and goals were the only thing lacking in what was a cracking game of football.
It seems an absolute age since I was writing my last report following what was, a devastating International break - in which after being given a huge 'get out of jail free' card, Steve McClaren and England somehow managed to book themselves a long, summer International break of their own. Okay, so the good news was that it saw the end of Steve McClaren's reign, but it was a massive price to pay.

Anyway, I could continue to rant on about that, but will move swiftly on to todays game and Rangers took about 20 minutes to wake up and in which time, Wednesday hit the Rangers crossbar. But the R's soon got into their stride and Sinclair was unlucky to see his shot from the left smack the post - and from the resulting corner, Rangers were denied again as Liegertwood's header come back off the crossbar. Sinclair was again denied in a one on one with the keeper and although Vine had the ball in the Owls net, it was ruled out for offside.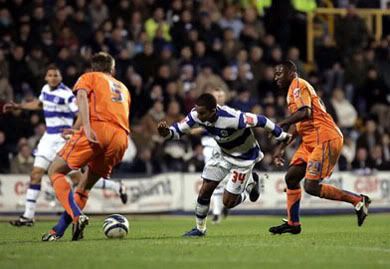 The second half largely belonged to Rangers and for the second game running, found the opposing keeper in tremendous form. Lee Grant denied Vine and went on to deny Scott Sinclair three times in what was looking like a personal battle. In between, the crossbar again came to the rescue, this time for Rangers as O'Briens curler hit the frame of the goal before being cleared to safety.

QPR: Camp, Barker, Stewart, Mancienne, Blackstock (Nygaard 82), Buzsaky, Rowlands, Malcolm (Timoska 65), Vine, Leigertwood, Sinclair. Subs: Cole, Bolder, Ainsworth.

Lofty's Man of the Match - an extremely close call for me between Buzsaky and Liegertwood, but Mikele just edges it with another commanding midfield performance.

To sum up, this was one of the best 0-0's I have ever seen. Both teams were on form and both wanted to win the game and I am sure everyone in the ground enjoyed the game. But Rangers football again, especially in the second half was a joy to watch. We now have two tough away games against Stoke and Blackpool. Sadly, due to work committments, there is a chance that I may miss my first game of the season at Stoke, but normal service will be resumed at Blackpool next Saturday and yes, we are making a weekend of it in honour of Vickie's birthday!! The Blackpool report may be VERY late indeed... ;-)

Come on You R'ssssssss!!!