United We Fall as QPR Pay the Penalty...
Manchester United 1-0 QPR

Despite a battling performance, QPR went out of the Carling Cup as a 73rd minute penalty from Carlos Tevez was enough to see United through.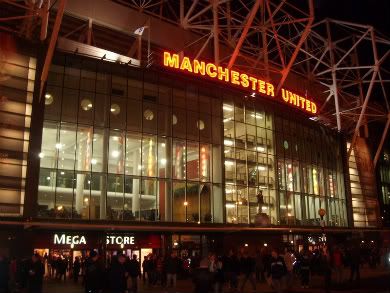 Before I go on, may I just apologise for the lateness of this report. But those who travelled by road to and from Manchester, will know that someone, somewhere, in their wisdom, decided to close a great chunk of the M6 for roadworks! Did they not realise there was a football match on and the majority of fans will be heading back south after the game - sorry, couldn't resist that one! Anyway, it meant that I didn't arrive back here at Lofty Towers until almost 5am. But in saying that, myself, PK and then Henley contingent had great fun in the car, assisted by a wonderful ipod playlist of 'cheese' compiled by Lee. But the tiredness was already creeping in at this time, with PK spotting former R's Chairman, Gino Paladooni also sitting in the traffic ;o) - a thought also goes out to our illustrious driver, after the late finish, PK more or less got home, got changed and went straight out to work, sleepless!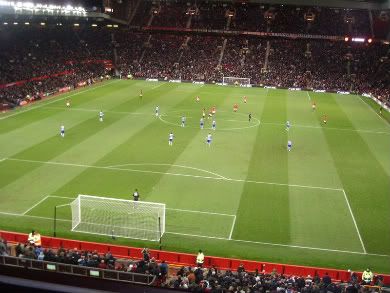 Previously, the journey up wasn't at all bad and we arrived in plenty of time to park, have something to eat and then take it what is an awesome, Old Trafford - a ground that I have always loved coming too as it is just full of history. But, seeing as I had taken a day off, I had a brief visit to the gym in the morning, but really needn't have bothered, as the umpteen flights of stairs leading up to our seats in the away section, would have tested even the most fittest of people!

Onto the game and I really didn't think for one minute I would be sitting here at any point, disappointed in defeat at the home of the Premier League and European Champions. But to go out to what some say was a dubious penalty, was harsh. I have seen the replay and in truth, am still undecided, but Man United are always going to get these decisions, especially in front of the Stretford End.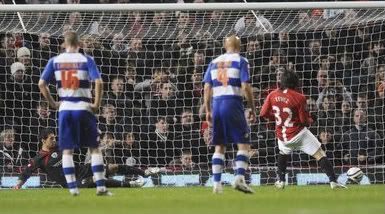 The other disappointment being, was that we really had a go at United after that, looked dangerous and with any luck, could have got something out of the game. Rangers substitute Samuel Di Carmine did have the ball in the net and sent the 7,000 R's fans into raptures with minutes remaining, but sadly, it was chalked off for offside.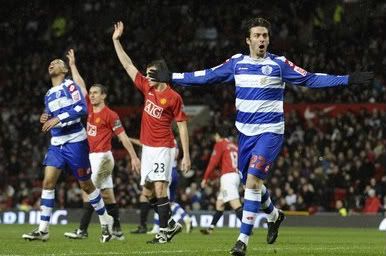 Rangers could and perhaps, should have equalised deep into injury time - Emmanuel Ledesma shooting narrowly wide from 12 yards when well placed to leave United breathing a sigh of relief.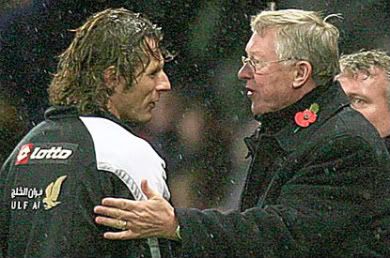 QPR: Cerny, Stewart, Mahon, Hall, Parejo (Ledesma 46), Blackstock, Buzsaky (Agyemang 37), Rowlands, Ramage, Connolly, Cook (Di Carmine 78). Subs: Cole, Delaney, Gorkss, Ephraim.

Lofty's Man of the Match - awesome performances from Hall, Stewart, Mahon and Rowlands, but there is no doubt this award goes to R's keeper, Radek Cerny for an almost perfect display of goalkeeping.

In summary, despite dominating, a penalty was probably the only way United were going to score. Defensively, QPR were outstanding, with, as mentioned, superb performances from Hall and Stewart and likewise, Rowlands and Mahon in midfield. Sadly, it was what is becoming the same old story at the other end and until the last ten minutes, we offered very little threat.

However, there was plenty to be proud off and on other day, the Ledesma shot sneaks into the corner and we would go into extra time. With the game Cerny had, United certainly would not have fancied the penalties!

Finally, we couldn't leave Old Trafford without having a look around the Manchester United Megastore and much fun was had by all, before we set off on our unexpected marathon journey...

Come on You R'sssss!!!