TV Nightmares...
QPR 1-3 Ispwich

Second-half strikes from Counago and Walters saw Ipswich come back from a goal down to deservedly beat QPR, in front of the Sky TV cameras at Loftus Road.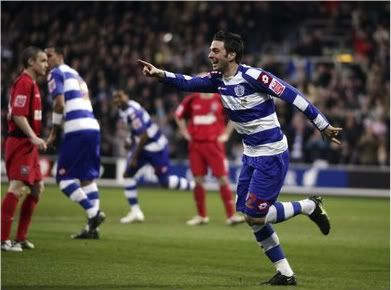 What with adverse weather, FA Cup games etc, it seemed like an eternity since the last QPR game, especially at home and what with the R's being 9 games unbeaten, the mood was certainly an upbeat one approaching kick off time. But in fact, as PK pointed out, the fact that the media and in fact, QPR themselves, kept mentioning the unbeaten run at every single opportunity, was certainly bringing a few nerves and doubts and as it proved, rightly so...

Onto the game and although the team selection was somewhat surprising, the doubts were eased on 3 minutes as Rangers took the lead - Wayne Routledge tricked Ben Thatcher and crossed from the right for Italian striker Di Carmine to score from close range. But the joy was shortlived as just 11 minutes later, some comedy defending brought Ipswich level - Stead got in front of defender Matt Connolly to collect David Norris' deflected shot and bundle the ball past keeper Lee Camp. It was no more than the Tractor Boys deserved though as they had threatened since the R's took the lead.

Onto the second half and Ipswich looked to step up a gear and went ahead in fine style just after the hour mark, when Counago robbed Mahon and went past Kaspars Gorkss before firing into the corner of the net. On 70 minutes, the game was all but over. Alan Quinn's superb crossfield pass, found Walters, who controlled brilliantly before slotting past Lee Camp in the R's goal. I guess by now, those who were at the game and those watching on Sky have all seen the goals again, but I reallt cannot say enough about Quinn's pass for thi goal, it was sensational and the finish from Walters was worthy of the delivery he received.



QPR: Camp, Delaney (Blackstock 67), Mahon, Hall, Leigertwood, Routledge, Gorkss, Connolly, Cook, Miller (Balanta 73), Di Carmine (Helguson 55). Subs Not Used: Stewart, Alberti.



Lofty's Man of the Match - Mikele Leigertwood

I thought I would make the match report brief because, as mentioned, we have probably all seen the goals etc now seeing as the game was on Sky TV. But I cannot write this report without mentioning the disgraceful behaviour of a minority of QPR 'supporters'?, which sadly, was also shown live to the watching Sky public. Yes, it was a disappointing performance and yes, we were all disappointed when Ispwich went 3-1 up. But if the chants of 'you don't know what your doing!' to Paulo Sousa following the substitution of Liam Miller, was bad enough, the booing of Gavin Mahon was nothing more than a disgrace and at the time, I was ashamed to be sitting in the same stadium as these so called supporters.

People can and will argue that you pay a lot of money and your entitled to have your say and in QPR's case, it is considerably more expensive to do so than in previous years, fair enough. But paying extra money does NOT guarantee that QPR will win every week, as much as we would like ot to be the case. Yes, it was a poor performance from the R's yesterday and yes, I'm sure everyone watching the game would agree that Gavin Mahon had a shocker, but he certainly wasn't alone. But for supporters to boo him, one of our own players, every time he got the ball?? AN ABSOLUTE DISGRACE!!

I can say no more...