Lee's Latest - Aldershot 0-4 QPR - Match Report
By Lee Brown

Lee Brown brings us his report from QPR's 4-0 friendly win away at Aldershot on Saturday, in Jim Magilton's first game in charge. Many thanks, Lee!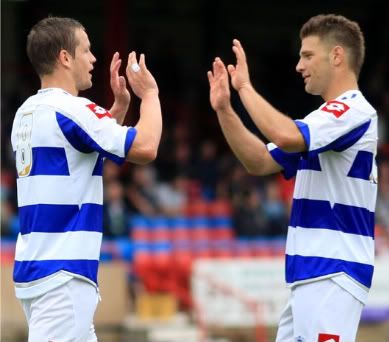 Well it was the first pre season friendly of the season time for us to see how preparations are coming along with the season 4weeks away. With all pre season friendlies you can never read into them too much as its more of a fitness based exercise than a performance that us as fans should worry about.

On a lush and very wet surface the game kicked off with a first team team that was very experimental and in a 4-4-2 formation.

The team was (from right to left): Cerny; Rose, Hall, M Connolly, Borrowdale; Routledge, Alberti, Mahon, Buzsaky; Helguson, D Connolly.

Aldershot started the brighter of the 2 teams and were playing some attractive passing football, causing our midfield and defence a number of problems at times. It took until the 12th minute before Rangers had a decent effort on the Shots goal, Routledge crossing into the trialist David Connolly, who flashed his shot just over the bar. A lot of Rangers more dangerous attacks were coming from our wide areas with Routledge and Buzsaky causing a fair few problems on numberous occasions.

The breakthrough came on 25 minutes, Alberti, who was in the unusual role as a centre midfielder, found Buzsaky on the left edge of the 18yard box and he took on 2 defenders before unleashing a thunderous effort into the top right hand corner. 1-0 Rangers.

Two minutes later it was 2-0. Buzsaky sent in a scuffed cross from the left which seemed to foil everyone except Helguson, who done his best to miss the target from close range but fortunately his effort hit the post and trickled in. Aldershot continued to play some very good football, and if it wasnt for a last ditch challenge from Matt Connolly when one of their strikers was through on goal then the scoreline could've easily been 2-1.

In the second half it was all change, except for Cerny. We tried out a 3-5-2 or 3-4-1-2 formation, I think it was the latter with the following (from right to left):- Cerny; Ramage, Oastler, Gorkss; Ainsworth, Leigertwood, Balanta, Ephraim; Vine(German); Blackstock, Agyemang

With a more assuring team fielded in the second half it was nice to see us try out something different and it also gave us a chance to see some youth in with some more experienced 1st teamers. Rangers looked more comfortable from the beginning and it wasnt long until a 3rd goal was added.

Leigertwood, who was captaining the second half team, dinked a ball over the top of the Shots defence and the pacey Agyemang took chase, out sprinted the defence before taking 3touches and lifting the ball over the advancing Aldershot keeper. A well taken effort. A fourth goal followed 5 minutes later. Ainsworth's cross from the right caused all sorts of confusion in the Aldershot defence and Blackstock was on hand to tap home an easy effort to really kill the game off.

Aldershot did nearly get a goal that I feel they deserved from their 1st half performance, Oastler mis-timed his sliding tackle to upend one of the Aldershot strikers. The penalty was very Gareth Southgate like and Cerny managed to produce a comfortable save.

The last memorable action of the second half was when Ainsworth challenged a 50-50 ball and crunched into one of their poor defenders which left him needing treatment for a good 5 minutes or so. I wouldnt be surprised if Ainsworth had some studs going up the side of him either. Vine did have to come off with 10-15 mins to go, he looked to be holding his knee, hopefully it was only a precautionary thing.

A quick round up of how I thought individuals looked.Cerny
- Solid, had little to do and produced a good penalty save
Rose
- For an attacking midfielder playing at right back I thought he looked hungry and it will be nice to see him develop.
Hall
- Looked very rusty and played a lot of hoof balls.
M Connolly
- Very assuring performance, definately needs to be kept at centre back
Borrowdale
- After today you can see why he never got near the 1st team last year.Very poor, disinterested, looked like a kid in a playground attempting to play football.
Routledge
- Dangerous and used his pace well. Supplied a few decent crosses for the forwards
Alberti
- Didnt look comfortable in the centre of midfield, would be good to see him played out wide next time round
Mahon
- Slow, but still has a decent engine on him. Needs to shake the rust off his legs
Buzsaky
- Star of the 1st half, scoring 1 and assisting the second, flashes of the old Buz.
Helguson
- Scored 1, didnt look outstanding but you cannot critisize his efforts today
D Connolly
- Hussled the defence a lot and put himself around. Would be nice to see him get another chance as he could be useful
Ramage
- Reliable, didnt have to do much, supported Ainsworth well on the right hand side
Oastler
- Seemed reassured in possession, was unfortunate with the penalty decision. Definate promise in the youngster.
Gorkss
- Played simple football and was very assured.
Ainsworth
- Still played with the same passion, kept on running until the end, provided some decent crosses and left his mark on one of their defenders
Leigertwood
- Wasnt at his best today but set up the 3rd.
Balanta
- Full of running, looked decent
Ephraim
- Played well, wasnt outstanding but the effort was there
Vine
- Has bulked up since the end of season, looked the fittest player on the park today
Agyemang
- Not outstanding, not bad
Blackstock
- Was useful but not brilliant
German
- Didn't have long to do anything.