Wat a shambles!!
Tonight's game was one that many of the Lofty Heights crew were dreading as we have such a poor record at Vicarage Road in recent years. We've only won there once since 1988 and tonight we never looked like adding to that solitary win.
A quick visit to The One Bell pub was the start of our time in Hertfordshire as Me, Sam and Justin met up with Nik, Connor and a few other QPR fans in there for a pre match beer and no-one was confident of a result. We all said that if we were offered a draw then we would quite happily take it, whereas Justin was going with the stats and predicted a 3-0 or 3-1 defeat (if only that bet was put on!) We met Lofty inside the ground prior to kick off in the tight concourse in the away end.

Four changes were made to Saturday's dismal performance against Middlesbrough. Gorkss, Taarabt, Buzsaky and Simpson (four of our best players) made way for Stewart, Ramage, Vine and Agyemang. A very confusing decision to drop Gorkss when there were two other defenders that performed worse than him, and to drop our top scorer and two of our most creative players yet leaving in Watson and Leigertwood, who have both been disappointing as of late just makes me scratch my head, especially as these changes pushed our best ball playing midfielder out to the left, just doesn't make sense to me!!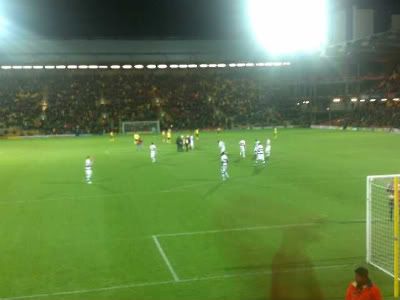 The game started off as a really tight affair in the opening 10minutes or so but as the half grew older it was the home side that looked to be more of a threat in the attacking third and the more likely to create any openings.
Chances were thin on the ground, only Cleverley's drive that flashed past Cerny's post was the only chance to note as the half was 30minutes old.
Despite the home side looking to have the upper hand it was Rangers that took the lead on 34 minutes. Faurlin played a sublime ball into the path of Agyemang. He ran across the 18 yard box and then placed his shot into the bottom left corner for his second goal in two games.
The goal seemed to give the R's some confidence going into half time but it was just typical that we would switch off in defence and concede yet another sloppy goal on the stroke of half time. Harley's cross from the Watford left found Cowie in acres of space at the back post and he played a ball back over to the other post where the advancing Doyley wasn't picked up and thumped a diving header into the unguarded net to score his first ever goal in ten years of playing for the Hornets. Poor defending! So many questions have to be asked about what was happening and who was supposed to be marking who.
Half time was upon us and as we were making our way to the concourse for our half time chat we were reminded by the annoying person who was on the PA that it was Doyley's first goal for the club and really got under the Rangers fans skins. Once we finished scratching our heads it was time for the second half.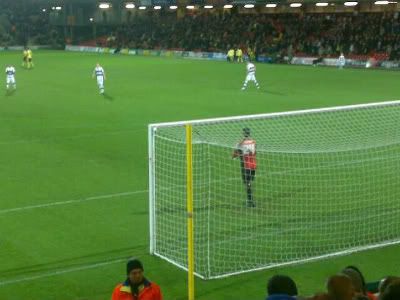 Watford came out the better side in the second half and if it wasn't for a fantastic save from Ellington by Cerny. Ellington's header looked to be sneaking just inside the left hand post but Cerny was at full stretch to make sure the ball stayed in play and was cleared.
On 56 minutes the Hornets got the second goal that they deserved. Danny Graham played in Cowie and he drove his effort into the bottom right corner. It was going from bad to worse!
Taarabt entered the game shortly after the second goal, he replaced Vine.
Despite the change Watford were still the better side and really should've added a third. Harley's shot was beaten away by Cerny but it fell to Henderson and his header was brilliantly saved by Cerny as he recovered from the first shot and beat the ball away from danger.
Rangers pushed for the equalizer but were really lacking ideas up front. Taarabt was having one of those games that just frustrate the hell out of you. He was persistent in taking 9 touches before attempting 3-4 step over's and then losing the ball when it would've been easier to slip in an easy pass.
Watford were still making chances and it was that man Doyley that nearly scored once again! He let rip from 25 yards out but his effort flew high and wide of Cerny's goal.
Two further substitutions were made as Rangers looked to try and salvage something out of the game. Jay Simpson came on for Wayne Routledge, a decision that didn't go down well with the travelling supporters and was booed and the chants of "you don't know what you're doing" started off. The other substitution was slightly more popular. Buzsaky came on for Leigertwood, who once again had a disappointing game in my eyes.
Rangers did press for the final 15minutes and had one real chance to note, Buzsaky skying the ball from 12yards out.
Things got really stupid when Fitz Hall dived in and conceded a foul on the edge of the box. The Rangers fans started chanting "off off off" for the challenge. Now I know that Hall has been pretty poor of late and doesn't deserve his place in the team ahead of Gorkss but to do that is pretty harsh and will not help him out at all. Just my opinion, I'm sure others will think differently to me.
Just as we thought things couldn't get any worse they did!
Cleverley broke clear of the Rangers defence and stroked the ball into the bottom left corner and really annoy the 1,442 Rangers fans in attendance.
As we made our way out of the ground the final whistle blew and put us out of our misery. The annoying announcer decided to harp on about the Doyley goal once again and said that there will be some Doyley memorabilia being made to commemorate the goal. As u can imagine this was met by a wave of f%@k off you .... by the R's fans trying to leave the ground.
I can honestly say that I really don't know what is going on at the moment. Last year we had one of the best defensive records in the division by playing a settled back four and having a player of the season and runner up player of the season as our two centre backs yet Jim just doesn't seem willing to play them together and opts for Hall who for me isn't any better than Stewart, Gorkss or Connolly. Something else that really grinds my gears is the fact that Watson has been poor in his last four outings and Leigertwood has been poor in his last 2-3 games were played as a centre midfield pair yet Faurlin who has been outstanding in the centre was pushed out to the left. It puzzles me how players that have been consistently poor, like Watson, have managed to remain in the starting eleven. It's obvious to me that the 4-2-3-1 formation we were playing during our fantastic run in October needs to return and the 4-4-1-1 that we are now playing needs to be ditched. Personally I would pick a team like this once one or two injuries clear up :-
Cerny
Connolly Stewart Gorkss Borrowdale
Faurlin Buzsaky
Routledge Taarabt Vine/Cook
Simpson
Again that is there for debating purposes.
Watford:
Loach, Mariappa, Cowie, Graham, Doyley, Harley (Severin 83), Cleverley, Cathcart (De Merit 46), Ellington (Henderson 57), Eustace, Hodson.
Subs not used:
Lee, Bennett, Sadler, Bryan.
Scorers:
Doyley (43), Cowie (56), Cleverley (90)
QPR:
Cerny, Ramage, Stewart, Hall, Leigertwood (Buzsaky 75), Routledge (Simpson 72), Vine (Taarabt 59), Agyemang, Watson, Faurlin, Borrowdale.
Subs not used:
Taylor, Pellicori, Gorkss, Williams.
Scorers:
Agyemang (34)
Bookings:
Stewart (82), Hall (88)
Referee:
Mr A Penn
Attendance:
15, 082 (1, 442 Rangers fans)
Today's
Man of the Match
can only be awarded to one person this evening and that is
Patrick Agyemang
. He took his goal well and worked hard throughout the game, thats as good as it gets.
After the game we took a walk into the high street and had 20 odd Watford fans clock us 5 Rangers fans and proceeded to chants their songs at us, it was all in good sprits and unfortunately we had a pretty drunken Nik in our company and he decided to counter their chants in his own one man band, was a very funny thing to witness and certainly helped us forget about the match and gave us something to laugh about, it was very funny to watch. Once had had grabbed our food Nik disappeared off to the club he was going to and we headed for our cars in hope that the traffic had died down. Once the grub was finished and we had finished randomly beeping our horns at random people, which evidently cured a problem I had with my headlight, we went our separate ways and the night came to an end.