Reserves Rover and out.
On what is usually a magical weekend for English football, QPR travelled up to Blackburn looking to win an FA Cup tie for the first time since 2001. The Lofty Heights crew braved the journey despite prior warning that Neil Warnock would be fielding a weakened side.
With Lofty at the wheel we took to the road after he picked up PK, Jenson and finally myself as we took to the longish journey up to Lancashire. The mood in the camp was one that we were going to just enjoy our day out and have a laugh along the way and if we got a draw or maybe more then we would've been more than happy.
With there being plenty of FA Cup ties today we saw the return of the away day predictuion competition. With over 51 games to try and call from the FA Cup, League 1, League 2 and the Blue Square Premier it was anyones game to try and take the money and try to take the crown from previous champion PK.
The journey up the M40, M42, M6 and M65 took us just in excess of two hours and 45minutes, was a smooth one with no traffic issues at all, a nice change to our previous trips up north!
We arrived at the Fernhurst pub just outside of Ewood Park at 1.15 and went straight to the hog roast van that as directly outside the pub. Two of us opted for beef and two went for pork rolls, for about 10 minutes you couldn't hear a word from any of us, the food must've been good to shut all four of us up!
We made our way into the pub to get two beers and two cokes, it made a nice change to get change from £10 yet there was one northerner in the pub that moaned that he had to pay £1.90 for a pint because he usually pays £1.60............. he needs to try living down south, he'll realise how lucky he is that we pay his benefits.
Whilst we were in the pub we met Lorna and had a good laugh with her as Jenson, Lofty and Lorna tried their hardest to get the attention of a person on facebook called Malcolm and put up attention seeking statuses and seeing how long it would take for him to reply, it was all quite funny at the time, you had to be there!
Just before we left the pub Lorna shared a great blonde moment when Lofty asked how long there was left of the Arsenal game she replied "about half an hour" thinking that he was asking how long there was until our kick off, probably another 'you had to be there' moment but it made us laugh for quite a while!
We were then joined by Steve and Phil as we made our way into the ground. Somehow Steve, who is about 7foot tall, managed to get himself in on a young adult ticket, well done that man!
Neil Warnock made changes to the side that drew 2-2 with Bristol City on Monday. Gary Borrowdale, Petter Vaagen Moen, Leon Clarke came into the side that was missing Matt Connolly through suspension, Patrick Agyemang, Martin Rowlands through injury, Adel Taarabt and Heidar Helguson were rested whilst losing Kyle Walker after his loan spell ended on Monday, with him joining Aston Villa, Rangers looked slightly depleted in their starting line up and the left hand side especially looked weak with Borrowdale and Clarke providing the width down there, hardly an encouragement for the travelling support.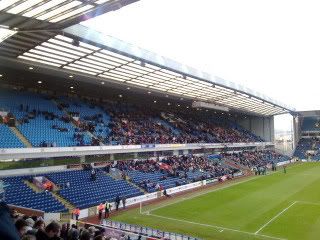 Rovers started off the better of the sides in the first half and enjoyed plenty of success when putting balls over the top down our left hand side, if it wasn't for some wasteful finshing by Mama Diouf then Rangers' could've easily found themselves one or two down in the opening 10 minutes.
Paddy Kenny was soon brought into action as Mama Diouf had a free header just outside the 6 yard box that was destined for the back of the net but somehow Kenny threw himself across his goal line and tipped the ball wide for a corner.
Minutes later Kenny was once again the saviour as he saved a header from point blank range when it seemed certain that Blackburn would score.
From the resulting corner Clint Hill cleared off the line and somehow Rangers' were able to keep their clean sheet in tact.
Disaster struck for the R's as half time was approaching when Jamie Mackie made a reckless challenge on Gael Givet both players were left in a heap on the floor and after about 5 minutes of treatment to both of them they were both stretchered off and replaced. Early news rumoured that Mackie had broken his leg.
Rangers' nearly took the lead on the stroke of half time when Petter Vaagen Moen's bullet free kick which looked destined for the top corner was superbly saved by Bunn in the Blackburn goal.
At half time we made our way down to the concourse to check out the latest scores and knock back a cheeky beer. We were joined by Michael as we discussed the first half and how the R's looked like they were gaining in confidence the more the half went on and were unlucky when Moen's free kick was saved.
In the second half Rangers' continued the press on the counter attack with Bruno Andrade looking very dangerous having come on for the injured Mackie. Andrade's pace was troubling the Blackburn defence and when Rob Hulse headed wide you just wondered if the R's were going to be able to break the deadlock and sneak a goal.
With 15 minutes to go Blackburn took the lead. El Hadji Diouf cut in from the right hand side unchallenged as he laid the ball off to the advancing Holliet and he sidefooted the ball into the bottom corner past the outstretched hand of Paddy Kenny.
Rangers' never really looked like getting the equaliser but one positive from the second half was a substitute appearance from Lee Cook having seen the winger out of action for such a long period of time.
I think the general opinion is that none of us are really bothered about being out of the FA Cup and that the League is the clubs priority.
The news that Jamie Mackie has suffered a double fracture to his tibia and fibia really soured the day and we all wish him a speedy recovery. I hope this drives our players on to win promotion for him.
Having lost two strikers to injury this week I feel that now we need to strengthen the front line with a decent poacher then can nick us ten goals in this second half of the season and one more defender that can provide good competition for those that have done so well this season.
The Lofty Heights
Man of the Match
has a few contenders. Bruno Andrade was impressive in his substitutes appearance, Rob Hulse once again battled well up front and held the ball up well for the supporting players. Clint Hill was superb at centre back, winning plenty of headers and proving to be very difficult to get past. However our
Man of the Match
is
Paddy Kenny
for his superb performance between the sticks and making some fantastic saves, keeping Rangers' in the game a lot longer than maybe we deserved.
On the way home I started to get through our prediction competition, which was a closely fought contest with PK getting off to a flier in the FA Cup games but as we went into the final league, the Blue Square Premier, the scores were tied at 23 each between PK and myself. With it going into the final game, Wrexham vs Grimsby, it was PK that claimed victory and retained his title and picked us the winnings off the rest of us. Well done PK!
The journey was made as we entered the service station in Warwick on the way home as the Wycombe Wanderers squad walked in and Lofty, PK and Jenson managed to grab a few words with Gary Waddock at first and then thelegend that is Gareth Ainsworth stopped to talk to everyone and give our day a great ending.