We're the Champions (for now......)
Today the R's faithful travelled to Watford hoping that Rangers' would finally seal promotion (albeit maybe for a week only) and really get the champers flowing.
The Lofty Heights gang were in full force as Sam, Jess and Lorna travelled in my car, Lofty travelled alone, Jenson travelled with Smithy and PK drove Corp and California Hoop, yes you heard correctly, California Hoop attending an away game from the first time since the Boxing Day at Charlton a few years ago. Corp and California Hoop had to sit in the home end but its still a damn good effort by them.
The majority of the gang assembled in The Oddfellows pub for a few pints and shared our views on The Sun's article yesterday on next weeks hearing, mixed views were shared and the nervousness has cerainly unsettled a few of us but I remain calm and hope for a positive outcome and that its them just stirring a few leftovers outta a dirty toilet.
Neil Warnock was forced into one change before naming the line up, Clint Hill missed out through injury and was replaced by Matt Connolly. However in a late twist one more change was forced on the R's boss, Paddy Kenny was injured in the warm up so he had to be replaced by Radek Cerny, who was making his first appearance of the season.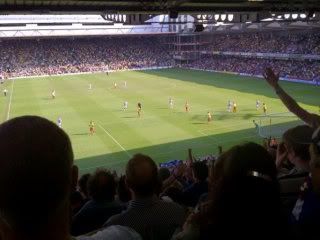 As we made our way to our seats Phill was in place alongside his Dad and a whole load of inflatables for us to blow up and surf to the crowd. Jess got hold of a shark and kept hold of it as what could hopefully be a lucky charm for us.
The first half wasn't really a spectacle to be fair and it was a tale of three offside goals dissallowed. Taarabt and Routledge had goals chalked off, Helguson's looked very tight from where we standing. Watford had one chalked off for a clear offside as our female linesman definitely knew what the offside rule was throughout the half.
Danny Graham headed narrowly wide and Alejandro Faurlin sidefooted over after great work by Taarabt down the left.
Fitz Hall had to be replaced midway through the first half due to injury, his replacement was Danny Shittu.
At half time I continued with my tradition of starting this write up whilst the gang got refreshments and had their respective breaks before getting back in their seats in time for the second half to kick off.
Rangers' again started the half well but did not manage to forge any clear cut chances.
As the half got older the R's were not getting the roll of things and Watford came more and more into the game. Rangers' fans were sweating as Watford managed to make the R's defend deeper and deeper but Cerny remained untested in the R's goal as we entered the final fifteen minutes of the game.
It looked as if one moment of brilliance or one mistake would come between the two teams and two minutes later we found out what it would be......
Tommy Smith attacked down the left hand side and managed to get a cross in that seemed to strike a Watford arm along the way but as we appealed for it our magical captain Taarabt stole in at the near post and flicked the ball past Scott Loach and the R's end erupted!!
The gang in our row went crazy as plenty of love went around and the shark was waved around in absolute delight.
The next 13 minutes seemed to last a lifetime but eventually the board with the additional minutes on it........... FIVE MINUTES????? Where did they come from??????
As we stand more anxious than ever waiting for the minutes to tick down there was time for one final goal.
Tommy Smith was fed the ball on the edge of the box and he drilled the ball into the bottom corner past the despairing Scott Loach and Rangers' fate was sealed.
This was Smith's 100th league goal of his career and what a time to grab it!
The celebrations were ones of relief, jubilation and just ecstasy. Iceman started to cry, phones from the row behind us were being lost and plenty of hugging was shared amongst us all.
FINALLY RANGERS ARE BACK 'ELLO 'ELLO!!!!!!!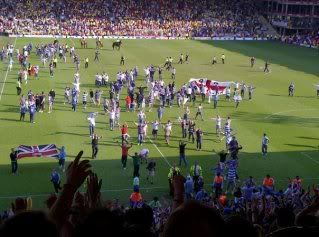 I must say that after all the hard work this season that today was the day we as R's fans have waited for and have finally got after 15 years out of the big time.
Today was not the best footballing contest but with a lot of patience and some solid defending we got what we deserved, something that should've been sealed weeks ago, the Championship title.
Words cant describe what today is, all I can say is that it is a very special day that all members will all remember for the rest of our lives, even Corp and California Hoop who managed to get on the pitch from the Rookery End and came down to the away end to celebrate with all the R's fans.
Jess, Lofty, PK, Corp, California Hoop and myself made our way to the Breakspear Arms in Ruislip. We toasted the Championship title in a reserved style but with plenty of laughs and banter along the way, the company could not of been better.
Today's Man of the Match was settled by one vote. As we left the pub Danny Shittu edged the votes with five votes to Tommy Smith's three but after receiving Sam, Luke and Lorna's votes by text it was
Tommy Smith
that won today's award with six votes to Shittu's five.
Watford:
Loach, Hodson, Eustace, Taylor (Bennett 54), Mariappa, Cowie, Deeney, Graham, Buckley (Murray 78), Doyley, Sordell (Whichelow 73).
Subs:
Gilmartin, Mingoia, Drinkwater, Assombalonga.
QPR:
Cerny, Orr, Derry, Hall (Shittu 23), Taarabt (Ramage 90), Helguson, Faurlin, Gorkss, Routledge (Buzsaky 75), Connolly, Smith.
Subs:
Agyemang, Hulse, Vaagan Moen, Ephraim.
Goals:
Taarabt (77), Smith (90+3)
Referee:
Mr N Swarbrick
Attendance:
15,538 (2171 QPR fans in the away end, numberous others elsewhere.)
Tomorrow the gang will be attending the Player of the Year dinner and dance (minus myself and Jess) so I wish everyone a great night ahead.

Lofty will be back during the course of the week with the Lofty Heights Awards 2010/11 and then again next weekend for our final report of the season.

I sign off this season with a massive thank you to everyone for all their support and hope you all continue to enjoy our ramblings next season....... as a Premier League club!!

U R'SSSSSS!!!!!!!!!!!