Rangers' show plenty of Hart at the Lane.
The R's faithful made the short trip up to North London for the trip to Spurs today in what was our second London Derby in a week. Could Rangers' spring another upset? We were about to find out.
The day started very early for some on the R's fans as they completed a walk from Loftus Road to White Hart Lane for the Tiger Cubs, a fantastic bit of charity work by the fans and hopefully they raised plenty of money for the cause.
For the Lofty Heights gang though we took to the road at 12.15 with myself and Jess driving to PK's house to meet with him and Jenson. We met shortly after 12.30 and made our way to Wembley were we met up with Lofty at the Ace Cafe on the North Circular and then begun our journey along the roadwork filled North Circular and A10.
We arrived in Tottenham at roughly 2pm and parked along the red routeway, quite a lucky spot by PK and Jenson as that meant we could avoid paying the extortionate parking fee of £15 in one of the matchday car parks.
We made the 10 minute walk down to the ground and as we reached the road of the supporters entrance we had two lots of Sky cameras flashed on the gang as we walked past, Jenson gave the camera a fist pump and Lofty shouted "Come on you R's" as we walked past, little did we realise that an hour later as the build up was being aired on Sky Sports that we would be shown on live tv doing this! As people recognised us the texts, tweets and facebook notifications came flooding in to the gang along with a few of the mug shots, here they are for your enjoyment.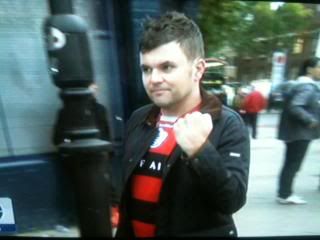 Jenson giving the fist pump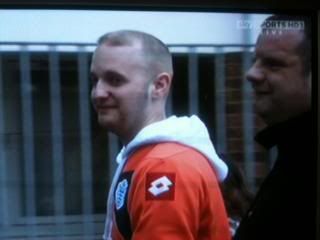 Me and Lofty with Jess' head hiding behind me.
We made our way to our seats, myself and Jess were just six rows behind Lofty, PK and Jenson and we were ready to roll.
Neil Warnock made one change to the starting eleven that beat Chelsea last Sunday.
Armand Traore replaced Clint Hill. Danny Gabbidon took his place on the bench as he makes his comeback from the knee injury that has sidelined him since the game at Wigan.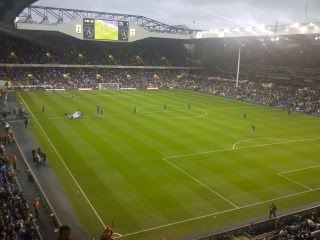 Spurs started the game with real purpose and within the first five minutes Paddy Kenny was forced into three fantastic saves and keeping the R's in touch at 0-0.
10 minutes in and Rangers' were forced into a substitution. Yes it was Fitz Hall that had picked up the injury, no shocks there, he was replaced by Danny Gabbidon.
Soon after that, Taarabt run at the Spurs defence before mis-hitting his shot which Helguson managed to stick his foot on, only to see the ball fly over the bar.
On 21 minutes we had our first goal of the game.
Friedel's goal kick was nodded by Adebayor into Lennon's path. Lennon run at the R's defence with his lightening pace and no-one got near him before he slid a perfect through ball in the path of Bale, who hit a low drive past Paddy Kenny into the bottom corner.
For the first time we actually heard the Spurs fans celebrate, but that was short lived as they soon sat down quietly and resumed watching football in their library.
Spurs continued to give us all sorts of problems and it really should've been 2-0 when Bale arrived unmarked in the area but he put his effort over the bar.
On 33 minutes it was 2-0.
Van Der Vaart was quickest to react to Ledley King's deflected shot and Van Der Vaart was there to turn and place the ball home from 12 yards out.
Rangers' were all over the place and just looking completely out of sorts. Taarabt was not getting into the game and was proving to be a hindrance to his team mates. To be fair there were not to many players out there that could be proud of the first half as we went in feeling lucky to only be 2-0 down.
The gang gathered on the concourse at half time wondering if this could be another Fulham. I made the shout that maybe if we took off Taarabt and Barton, replacing them with Mackie and Buzsaky we'd be better off attacking wise. The interval seemed to fly by and we were soon back in our seats.
Two substitutions were made at half time, one of them being a suggestion of mine.
Taarabt and Derry made way as Bothroyd and Mackie were introduced.
Rangers' started the half much better and began to give the Spurs defence a lot more to worry about.
Bothroyd gave us more options in the space behind Helguson and was able to hold the ball up more so that we could get Wright-Phillips more involved in our attacks and get Jamie Mackie hassling Assou-Ekotto down the R's right hand side.
Faurlin was able to put his foot on the ball and pick out his team mates with a lot more ease. We began to look like a team that were fighting for each other and could create problems for Spurs.
After a good 15 minute spell the R's got the goal they deserved.
Barton's corner has headed goal wards by Helguson and Jay Bothroyd nodded home from 3yards out to claim his first R's goal since his transfer in the summer.
This woke Spurs up and on 72 minutes Spurs got their 3rd.
Lennon and Bale played two one-two's with each other before Bale sidefooted past Paddy Kenny, just as it looked as if Rangers' had rattled Spurs.
Rangers' still created chances, the best falling to Luke Young as his header was cleared off the line from Barton's corner.
At half time we feared this might turn into a rout but the second half performance was one of pride and really showed that we could compete with teams in this division.
When Taarabt came off I feel we look more together as a team and really fight for the cause. Hopefully over the coming weeks we will see others that will fight for the shirt get a chance to stake their claim for Taarabt's position. Bothroyd was exceptional in the second half and helped create a different dimension to our attack with Helguson in front of him. I'm hoping that Buzsaky gets his run soon as well as we really lack quality at dead ball situations, if Buzsaky is taking our free kicks and corners then we will create more chances and inevitably score more goals.
Today's
Man of the Match
was an easy choice for the gang with everyone voting for
Paddy Kenny
. Kenny kept the score very respectable in the first half and even made his fair share of great saves in the second half.
The gang went their separate ways just after 6.30pm and made the shortish journey to our two destinations.
Jess got very excited as we drove through Tottenham and spotted some Jewish people in the streets and tried taking photos of them to share a joke with one of her friends, unfortunately they all hid away before she managed to get a photo.
All in all we all had a great day out and we still have many more enjoyable trips to come.
Lofty will return next week for the visit of Man City, another easy game!
U R'SSSSSSSSSSSSSS!!!