No Heart, No Desire, No Chance......
The R's hosted fellow relegation threatened Stoke City in today's that would determine whether our impending relegation would be prolonged or just over so we can look ahead to a season in the Championship and hopefully a chance for us suffering fans to see the R's win a few more games than we have witnessed in the last two seasons.
Jess, Sam and myself arrived at Loftus Road at 2pm and met up with Tony and Alan opposite the club shop before the girls headed to the Springbok to meet Lorna for a few drinks, whilst Tony, Alan and myself went to the Blue and White bar for a swift half before heading out to enjoy the sunshine and have a good catch up.
Whilst we were nattering away we bumped into Bob, Kempy and Kris, as we discussed the rumours that the R's have bid for the Wormwood Scrubs and Linford Christie Stadium plot of land and is the chosen destination of the new R's Stadium, a mere mile or so from where we are currently situated.
Lofty and Jenson then came and met up with us before we headed up to our seats and let football get in the way of a good social.
Unfortunately PK and Luke were not in attendance today due to work commitments and a stag do respectively.
There were five changes to the side that pathetically rolled over at Everton last weekend. Rob Green, Tal Ben Haim, Shaun Derry, Mbia and Taarabt all came in to replace Cesar, Onuoha, Granero, Park and Jenas.
The R's started well as Stoke set up in their usual fashion to frustrate, play long and hurt teams with their physical presence.
The R's looked comfortable as the visitors also looked like they could cause a problem or two.
Rob Green gave the R's faithful a scare as he failed to comfortably catch a routine shot and ended up spilling the ball as it spun just wide of the post as he then collected his own rebound.
Minutes later Green pulled off a good save from former R's striker Crouch when he chested down a high ball before stroking his shot on the volley towards the top right corner.
The R's defensive frailties then come to fruition.
Chris Samba once again failed to deal with an easy ball and was beaten for pace by Cameron Jerome who then ran towards goal and tee'd up Crouch for an easy side foot home from 8 yards. Why Samba didn't just put the ball in row z I'll never know! He's become a liability in recent games!
At half time the concourse was rather depleted as I once again met up with Tony and Alan and also saw Michael for the first time in a few games. Once again the restart of the game got in the way of what was a good social occasion.
The second half really had no talking points as Stoke set out their stall and were physical, organised and limited the R's chances. It wasn't pretty by a long way but Stoke are effective doing this and Rangers' just could not create any clear cut chances.
The game was over on 77 minutes when Clint Hill tripped Crouch. Jon Walters thumped home his first penalty but was asked to retake it. It didn't matter as Walters crashed home the second attempt and sent Stoke another step closer to safety as the trapdoor was all but shut on the R's in the Premier League.
If Aston Villa beat Man United on Monday then both the R's and Reading will be relegated.
All in all a dreadful game for the neutral to watch and Stoke battled away for their win and won in true Stoke style.
The lack of heart and desire displayed by a number of the Rangers' players is disgusting to see and when the final whistle goes you see the likes of Bosingwa just jog off without a care in the world just infuriates me! Why not let a talented Fabio play or even let Nedum Onuoha, who hasn't done anything wrong in the few games he's played recently, get in over that monobrowed waste of space!
I will give credit to the five players that actually stood up and clapped the fans at the end, Rob Green, Clint Hill, Shaun Derry, Jay Bothroyd and Jamie Mackie. I salute them for actually looking like they give a f@ck about us and our club.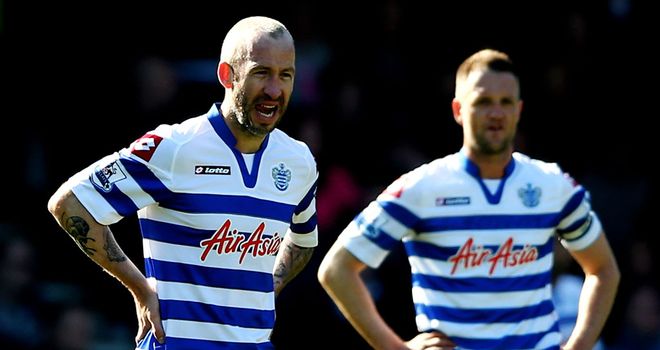 Man of the Match
, only one vote received this week from Lofty as he gave
Loic Remy
his vote as he is a player that we enjoy watching and will miss the most next season in the second tier.
Lofty returns next week with his report on the clash between the two bottom clubs as we travel to the fake hoops of Reading.
Queens Park Rangers
01 Green

05 Samba

06 Hill

Booked

19 Bosingwa

21 Ben-Haim

04 Derry

29 Townsend

(Mackie - 46' )

40 M'bia

10 Taarabt

(Bothroyd - 56' )

18 Remy

23 Hoilett
Substitutes
33 Julio Cesar

15 Onuoha

02 Diakite

07 Park Ji-sung

14 Granero

12 Mackie

37 Bothroyd
Stoke City
01 Begovic

04 Huth

12 Wilson

(Wilkinson - 61' )

17 Shawcross

30 Shotton

06 Whelan

15 Nzonzi

Booked

16 Adam

Booked

(Whitehead - 69' )

19 Walters

25 Crouch

(Cameron - 90' )

33 Jerome
Substitutes
29 Sorensen

02 Cameron

28 Wilkinson

18 Whitehead

21 Kightly

09 Jones

10 Owen