WELCOME!!!
Welcome to the New Lofty Heights...

I hope you all like the new page and I would like to thank you all in advance for your continued support!!

It will basically be the same sort of blog as before, and you can still leave comments which are ALWAYS appreciated. It is actually easier to do, so you never know, we may see a comment from PK one of these days ;)

There will also be a new feature to replace the very successful Pie Rating (thanks Corp) and I am open to suggestion! I haven't really pushed the idea yet, but I hope that some of the gang will do some guest reporting for me, to help me with my very busy schedule :) ... what do you think lads?

And of course, I will be reporting on the World Cup, hopefully Rooney will be there too!!

If your feeling nostalgic for the old page, then it will still be available at

http://loftyheights34.livejournal.com

if you want to read back at all.

CONGRATULATIONS must go to

NORWICH CITY

who receive the coveted award of The Best Pies in The Championship!! Sheffield United came a close second but there again, they do not have Delia Smith on their staff do they??

Coming very soon, will be a review of the latest

DOG CHEWED THE HANDLE

gig at O'Donoghues pub in Shepherds Bush, and of course, the

LOFTY HEIGHTS AWARDS 2005/2006.



But I will leave you for now with a piccy of the Rangers fans at Reading. Myself, DJ, PK, Corporate and Gobi all feature, but I will leave it up to you to find them. (DJ, you are well behaved in this one!!)

Thanks Again!!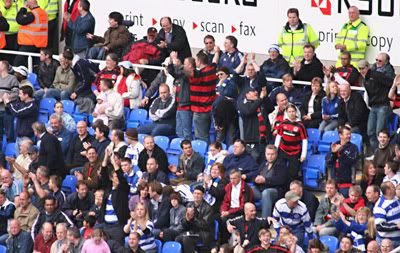 ©LOFTY