Corporate View...

England v Jamaica

The day started early as we had been warned about the traffic. However, there were no problems until we hit Manchester. After parking up, we went and had drink in local club – only £1 to get in and the drinks were cheap. But we gave this up to go and meet SB who was drinking in the Trafford bar - £2 to get in this time and the drinks were not so cheap, but the place was rammed.

As good as the ground and the facilities are, they do not sell pies!! How very strange?? Especially after all the beer that is sold all around, inside and out.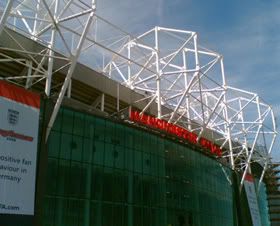 Old Trafford is an impressive sight, and the atmosphere inside was great. But it is little in comparison to Wembley (old one), which was the best stadium for atmosphere I have ever been too. The view I had was pretty damn good too…

The majority of the Jamaican fans did not get into the ground until after the game had started, and I know why…

...their National Anthem - what is that all about??

"Jamaica Oh, Jamaica Oh, Jamaica Oh."

Before the kick off, it went on for what seemed like hours. But when it finally finished, we got "God Save the Queen"… and what a way to raise the heart of every English Man/Woman.

Onto the game, and what more can you say about the score. In the last warm up game before Germany, England had a comfortable victory.

Final Score England 6-0 Jamaica

Peter Crouch showed all what all Rangers fans had seen the year he was with us (sadly, was unable to keep us up) ,with some nice control and 3 goals - the last one was a great move. It would have been four, but for him chipping his penalty over the bar – I think that's 3 points…

Lastly, an apology to PK and DJ... I could not get a match programme for love nor money.

©CORPORATE