The Final Furlong...
QPR 3-2 Luton

Rangers stepped ever closer to safety as Paul Furlong scored in the final minute to snatch victory for the R's in a topsy turvy game at Loftus Road.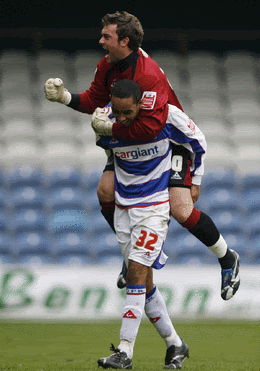 After Saturday's win at Coventry, everyone was in upbeat mood as Rangers took on a Luton side in terrible form. So much so that it seemed their fans have already given up - if the pitiful away following was anything to go by? So upbeat was California Hoop (who incidentally was sporting a Whoopi Goldberg look for the day), that he was constantly predicting a 6-0 win!

But in a disappointing first half, Luton had the better of the chances before Rangers took the lead - Dexter Blackstock firing home from close range on 41 minutes. However, it came as no suprise when in stoppage time, Luton were level through Coyne who headed home almost unchallenged from Bell's cross.

Onto the second half and disaster struck when on 50 minutes - Nygaard seemed to punch away a cross to give Luton a penalty, from which Bell made no mistake. The atmosphere was now becoming tense as frustration started to creep in. Not helped at all by some diaboical refereeing. I don't think anyone could quite believe how Heikkinen's trip on Furlong didn't result in a penalty? But on 81 minutes, a less clear cut penalty was given - Heikkinen again the offender, bringing down Furlong. Blackstock stepped up to cooly send the keeper the wrong way.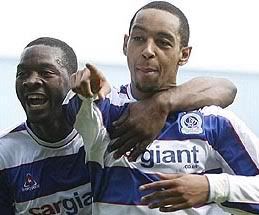 There was now only going to be one winner as Rangers piled forward and in the very last minute, Lomas crossed for Furlong to head the ball into the bottom right hand corner to cue some of the wildest celebrations so far this season.

QPR: Camp, Bignot, Cullip, Bolder, Ainsworth (Smith 22), Lomas, Moore, Kanyuka (Timoska 61), Stewart, Nygaard (Furlong 63), Blackstock. Subs: Cole, Ricketts.

Lofty's Man of the Match - well, some people may look at the goalscorers and Furlong's match winning performance from the bench. But for me today, it goes to Adam bolder who just never stopped battling for us in the centre of midfield.

To sum up, this was a poor performance in comparison to recent weeks, but our 'never say die' attitude got us through. I have no doubt that many R's fans would have been more than happy with a 4 point return over Easter? But to get all 6 and climb seven points ahead of the safety barrier, is a fantastic achievement!

Last but by no means least, the day and the result has come with a tinge of sadness, with the news that Gareth Ainsworth has suffered a fractured fibula. Gaz went off after 22 minutes and an X Ray has confirmed a spiral fracture of his left leg.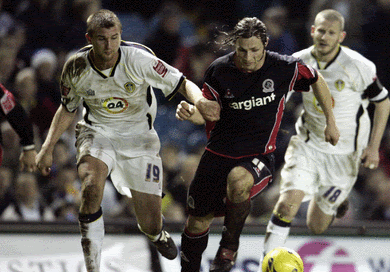 Gaz has had terrible luck this season with injuries but has continually fought his way back time and time again. His heart, passion and performances since his return have been exceptional, especially in recent weeks and he has played a massive part in the recent turn around that looks like it will now keep us in the Championship.

On behalf of myself and all the gang - GET WELL SOON GAZ and Thanks!

We look forward to seeing you back even stronger next year!!