Such a Perfect Day...
Leicester 1-3 QPR

Rangers finally got a result that their performance deserved with a morale boosting and impressive away win against the Foxes - including a 'goal of the season' contender from Marc Nygaard. Yes, I did say Marc Nygaard.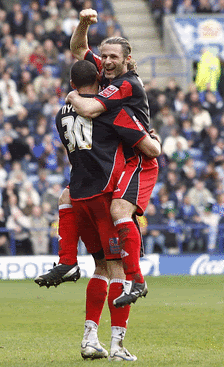 Myself, PK and Corporate(Al Murray) made the trip to the impressive Walkers Stadium today and to pass the time during the easy journey, we had a small wager on a prediction competition - on the outcome of today's games in the Championship. I managed to get 6 correct, Corp 4 and PK 2... who was later downgraded to 0 points as despite knowing the result of the previous night's Southampton v Colchester clash, he amazingly predicted it wrong!! Sorry PK, I just couldn't leave that out ;-)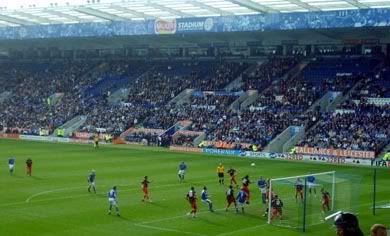 So after a drink and a catch up with friends at 'The Counting House', it was onto the game and a dullish first half saw Leicester create the better chances and Lee Camp had to be at his best to keep them out. Rangers slowly came into the game and on the stroke of half time, Nygaard shot wide which had the whole Rangers end thinking he had scored.

But it wasn't long before we were celebrating as Idiakez headed home Nygaard's knock back to give the R's the lead. Four minutes later and we were in dreamland as Maybury tripped Furlong in the box and the R's had a penalty for the second game running. A confident Nygaard picked up the ball and coolly sent the keeper the wrong way to send the travelling support into raptures.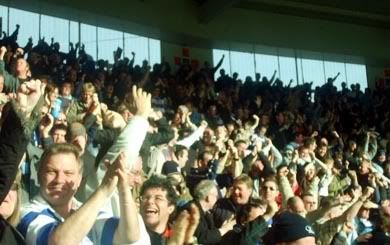 On 68 minutes, the game was all but safe as Camp's goal kick was flicked on by Furlong to Nygaard, who lashed an unbelievable volley into the Leicester net from 30 yards out. The Rangers fans celebrations were of both delight and total disbelief and we were well on the way to three valuable points. Hume pulled a goal back from the spot in injury time but I don't think any R's fan in the ground was overly bothered as the final whistle sounded shortly afterwards - except maybe us three who had 3-1 at 33/1 on our betting slip.

QPR: Camp, Mancienne, Cullip, Stewart, Bignot, Bolder, Ainsworth (Smith 89), Idiakez (Lomas 63), Cook, Furlong (Ray Jones 84), Nygaard. Subs not used: Cole, Kanyuka.

Lofty's Man of the Match - and to be honest, I never ever thought I would be saying this - Marc Nygaard

Well, as mentioned, it was great to finally get a result that our performance deserved and days like today, are what being an R's fan is all about! The travelling support so deserved a day like this! We were also rewarded with results going majorly in our favour as Southend and Leeds drew 1-1, Barnsley lost 4-1, Luton lost at home, Hull lost and Burnley also were beaten which yet again meant that our stay in the bottom was a temporary one.

It must also be mentioned that the gang collectively got the match forecast and result right at the bookies too - CHING CHING!!

As the title says... such a perfect day!