Missed Opportunity...
Ipswich 2-1 QPR

It just had to happen didn't it? Ipswich had failed to score in the six previous games leading up to this one, in a run that had pulled them deep into the relegation scrap. But today they got two as Rangers yet again failed to capitalise in a game that was there for the taking!

Three of the gang made the easy trip to Portman Road today as we welcomed back 'Corporate' for a rare away day, hoping that the R's would give him 3 birthday points(Happy Birthday mate!). His nickname may well be looking to change shortly as before the game, he was compared greatly to comedian 'Al Murray' for his stand up routine ;-)

As for the game, it was yet again a question of what might have been? Rangers were dominant in the first 20 minutes or so and were denied two first half penalties from one of the worst referees we have seen this season. The inevitable then happened on 26 when Lee headed the home side ahead on 26 minutes.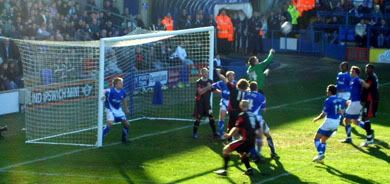 Rangers then lost their way and Lee Camp was almost single handedly keeping the Tractor Boys at bay. But on 54 minutes, Walters latched onto a through ball and made it 2-0 - which ultimately led to a great deal of frustration aimed at the bench from the away end -

'we want our Rangers back!', 'there's only one Furlong' and 'we'll never win with one up front'

were being chanted... as well as a large majority aiming insults at Chairman Paladini.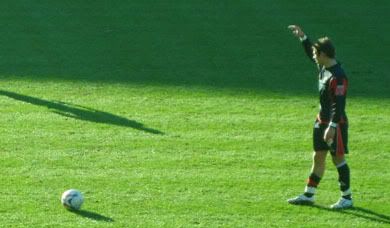 Paul Furlong joined the proceedings shortly after and pulled a goal back on 72 minutes - Rowlands shot from the right hit the post and Furs hammered home the rebound. More baffling decisions followed from referee Lewis and in injury time, Paul Furlong again went close, despite being clearly pulled back and the referee waving away yet another penalty appeal.

QPR: Camp, Cullip, Bolder, Ainsworth (Furlong 63), Rowlands, Lomas (Smith 82), Cook, Stewart, Timoska, R Jones, Mancienne. Subs: Cole, Moore, Kanyuka.

Lofty's Man of the Match - Lee Camp

To sum up, it wasn't the worst performance in the world, but without doubt, it was another missed opportunity as amazingly, results went our way yet again. But we just cannot continue to rely on this and next weeks home game against Sheffield Wednesday is yet another 'must win' game!

Despite the disappointment, there were some positive vibes coming from the lads from 'tractorboys.com'. In having a natter with them after the game, they were extremely complimentary about the football Rangers played. They were also more than impressed with the travelling R's faithful and stated - 'that's how to support your team away from home!'

Also, I must just say how great it was to finally meet up with Leeds based R's fans Vickie, Joe and Paul. After forgetting their match tickets and also getting lost on the way down, it was a shame that they couldn't have had a happier journey home!

p.s. Thanks for the tickets Gaz!