Changing Fortunes?
QPR 3-1 Burnley

Rangers made their stay in the bottom three a temporary one with an impressive victory over Burnley. For not the first time this season, the report is being written on a Sunday morning. Yes, with a hangover and yes, after watching the Championship on ITV. But this time, it was to enjoy the Rangers goals rather than be watching for bad refereeing decisions. The hangover was obtained after the gang moved the celebrations to the excellent Dog Chewed the Handle gig at the Brook House.

Despite the doom and gloom after the Barnsley defeat, there seemed to be quite a positive spin amongst the gang. Although not entirely deliberate, we changed our pre match pub to the Queen Adelaide rather than the British Queen to perhaps, change the routine and bring a change of luck too. A change which was also evident as inside the stadium, Rangers had swapped dugouts too!

Well whatever changed yesterday, it was definitely for the better as Rangers put in a fine performance that belied our lowly position. The formation, which was officially a 3-4-3 baffled everyone at times, but if it works with these results, who cares?

Lee Cook gave Rangers the lead on 13 minutes with a neat finish into the bottom corner after a through ball from Bolder. However the lead lasted just five minutes when McCann levelled the scores for Burnley. The half time score was probably about fair. But the second half was all Rangers!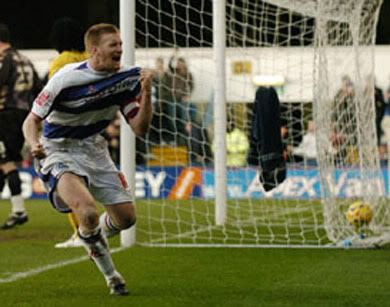 Cook's corner was headed home by Blackstock on 55 minutes and despite having several more chances to extend the lead, we had to wait until the 72nd minute to make the game safe with another set piece. Rowland's corner was headed home by Corporate's favourite player, Steve Lomas and at last, Rangers positive play had been rewarded.

QPR: Royce, Cullip, Bolder, Ainsworth, Rowlands, Lomas, Cook, Stewart, Timoska, Blackstock, Mancienne. Subs: Cole, Rehman, Nygaard, Jones, Smith.

Lofty's Man of the Match - so many to choose from today. The 3 new boys Timoska, Cullip and Bolder had fine games. Blackstock's usual tireless perormance was rewarded with a goal. But for a fine goal, an assist and a constant threat going forward, the man of the match for me was Lee Cook.

Rangers were the only team in the bottom eight to win and this was a much needed three points for everyone when we all needed a lift. It is heart warming to sit here and write about not only the win, but such a good performance - I like it and it MUST continue!!
©LOFTY