Gutted...
Luton 1-0 QPR

The title of this post tonight says it all, as Rangers went out of the FA Cup, yet again, at the third round stage at a bitterly cold Kenilworth Road.

I have to be honest, that over the past few days, I was in two minds about this game and in our present state, did Rangers really need this? But as the day wore on, I was becoming more and more positive and dare I say, looking forward to a game with Blackburn... sadly, it was not to be and the Annual QPR FA Cup Saturday off goes ahead as planned this coming Saturday.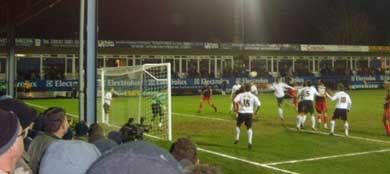 However, as I sit here thawing out and writing this report, I am still finding it hard to believe that we have lost. Rangers simply dominated the game and how this wasn't won by half time I will never know. We created chance after chance and as much as I don't like singling out players for criticism, Marc Nygaard must be held responsible for missing two absolute sitters in the first half.

Onto the second half and cue Nygaard to miss another sitter - blasting wide when it was easier to score. But the game changed on 72 minutes when Stefan Bailey received a straight red card for a two footed tackle on Brkovic. Even then, Rangers still looked the more likely but on 80 minutes, disaster! Morgan volleyed across the box and the unfortunate Rehmann scuffed the ball into his own net. With respect, an own goal was the only way Luton were going to score tonight.

QPR: Royce, Milanese, Rehman, Lomas, Cook, Bailey, Stewart, Nygaard (Jones 71), Blackstock, Smith (Ainsworth 83), Mancienne. Subs: Cole, Kanyuka, Furlong.

Lofty's Man of the Match - Lee Cook - outstanding!

Well with the first replay postponed, it was a longer cup run than normal, but it was so disappointing to go out at this stage yet again. But unlike recent weeks, there are so many positives to take from tonight. The earlier than expected return of Gaz Ainsworth from the bench was a welcome sight. Also, there was little wrong with the performance and I truly believe that if Ray Jones or Paul Furlong would have started instead of Nygaard, it surely would have been a different result! We simply dominated and I truly believe that if we can continue to play like this, our luck will change and we will NOT go down!

©LOFTY