What's That Coming Over the Hill, is it Timoska?
Okay I know, I know, it's terrible ;)

Just welcoming our new signing, Sampsa Timoska.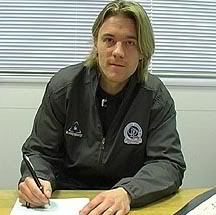 The following is blatantly cut and pasted from QPR Rivals/Loft for Words... but seeing as I wrote it, I think it's allowed;
John Gregory
has made his first signing of the January transfer window and has moved to strengthen the defence. Finnish Defender,
Sampsa Timoska
has signed from Mypa 47 on an 18 month deal as is all set for a debut against Luton in the FA Cup.
Timoska, who can play at either full back or centre back, has starred in the Champions League this season for Mypa, who were knocked out of the competition in the qualifying stages by FC Copenhagen.
Back in November, Sampsa had an unsuccesful one week trial at high flying Colchester United of which U's boss, Geraint Willaims told their official website;
"Having had a close look at Sampsa, we have decided that at this time there isn't anything we can offer him"
The versatile 27 year old is set for his debut for the R's in the FA Cup Tie at home against Luton on the 6th January 2007.
Gaffer John Gregory has said of his new defender;
"Sami will be a valuable member of the squad and for him to play in London is a dream move. He's versatile and he will go straight into the side."

Welcome and Good Luck Sami!
©LOFTY