Cold Justice...
Stoke 1-0 QPR

I really do hate to complain about officials on these reports, but yet again, the refereeing decisions played a huge part in today's result in a tight game at a bitterly cold Brittania Stadium.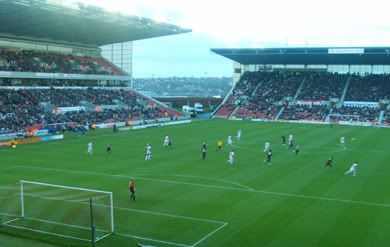 For many reasons, Stoke isn't the top of many R's fans lists of away games to go to and out of the gang, only myself and PK made the trip. The journey was an absolute breeze and we arrived in plenty of time to have a pre match pint - again, for many reasons, is better to have inside the ground.

Onto the game and as mentioned, some crucial decisions determined the outcome. If I am honest, Stoke just about edged the game overall, but a reshuffled Rangers line up more than held their own against high flying City. The home side took the lead after 16 minutes through a very dubious penalty. Fuller and Milanese tussled for the ball inside the box. It looked at first as though Milanese was fouled, but just as Fuller got the better of him, he threw himself to the floor and the ref pointed to the spot - Royce got a touch but Higginbotham's powerful penalty hit the back of the net.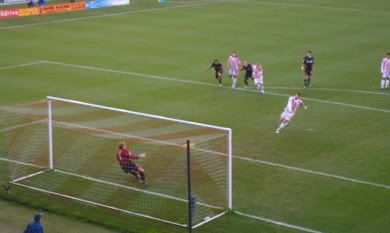 Rangers were much improved in the second half but neither side were creating much in front of goal. But Rangers will be left wondering what might have been as Duberry clumsily bundled Blackstock over in the box, only for it to be waved on. Then on 71 minutes, Jimmy Smith was clearly taken out just inside the box and the ref yet again, waved play on. Okay, Smith made a slight meal of it, but there was no doubt at all his legs were taken away from him.

QPR: Royce, Bignot, Mancienne, Stewart, Milanese, Bailey, Rowlands (Ward 87), Smith, Gallen, Nygaard (Baidoo 90), Blackstock (Furlong 70). Subs: Bircham, Cole.

Lofty's Man of the Match - for the 2nd week running and revelling in a more central position - Michael Mancienne.

With Stoke getting the result, it ultimately led to a calmer exit from the ground this year. This wasn't the worst performance in the world by any means, but our fourth defeat on the bounce nevertheless. Defensively, Rangers looked the most solid I have seen them all season but with Cook and Jones both absent, we looked short of ideas coming forward. Paul Furlong looked a class act when he came on (70) and as PK and I discussed, would Rangers benefit with him starting a game(even if it is just for an hour or so)instead of coming on trying to rescue it?
©LOFTY