Politically Correct??
By now, no doubt we have all heard about Mike Newell's comments about lineswoman, Amy Rayner after Saturday's match: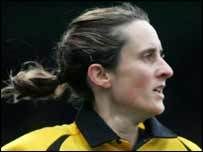 "She shouldn't be here. I know that sounds sexist but I am sexist. This is not park football, so what are women doing here?"
Corinne asked me on Monday whether I was going to write an article about it on these pages, to which at first, I declined. I then asked if she would like to put something together to give a woman's point of view on the subject? Corinne has followed up with an excellent article and is a great signing for Lofty Heights:
Following Mike Newell's post match remarks regarding women's place within football, I feel I'd like to portray my thoughts on the matter – a female perspective. I guess many would be expecting this article to expound how outrageous and offensive his opinions are… However, I'm going to argue in favour of Mr Newell's comments.

Historically football has been a 'man's game'! Why should this have to change because of our country's obsession with political correctness? Obviously, I believe in equality (to most extents) but is there anything so wrong in men keeping football for themselves? We women have already established our ground within this sport with more female football fans, teams and leagues than ever before. I think it's about time that society accepted men and women are different!! Evolution is to blame for this! We don't need to do everything men do in order to prove ourselves – we have our own qualities.

Abusing the linesman, sorry referees assistant, has always been a part of the game. Are men allowed to abuse a female linesperson in the same way without being accused of being sexist?

There's a rawness to football which is already being dampened by monetary focus, agents and increased rules and regulations. Can we please just leave things as they are?! Else where will this downward spiral end up – not being allowed to sing the ' West London is Wonderful' song because it contains the words; tits and fanny!?!

Are the people who have been offended by Newell's comments really true football supporters?
©Corinne