The Ray Jones Situation...
The absence of Ray Jones from the Rangers first team is now a topic of discussion on various message boards and has also prompted an article in the Kilburn Times. Is the future of one of Rangers brightest young stars in jeapordy?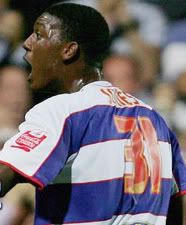 Ray Jones has been discussing his first professional contract with both his parents and the club for some time and by all accounts, the deal was imminent.

However, similar to the situation that almost lost us Shabazz Baidoo in the summer, his agent has now apparantly got involved and is keen that Ray gets paid a similar amount to Dexter Blackstock and the other forwards at QPR.

QPR and John Gregory are understandably furious as this is an extremely dangerous precedent to set i.e. all the YTS players will be wanting similar deals! Further anger is aimed at the agent who the club believe have led Jones astray.

The situation at present, is that Ray is unlikely to play for the club until this situation is resolved. Hopefully, this complete shambles will be sorted very soon and Jones can continue with his VERY promising career at Rangers!
©LOFTY