WBA 3-3 QPR
Apologies for the report being later than normal, but how on earth do you begin to write a report on a game like that? Especially in the early hours of the morning!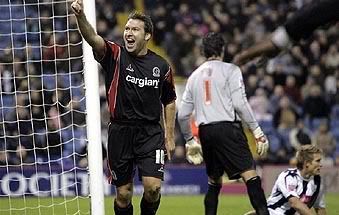 Anyone that knows me, will realise that Albion have been adopted as my second team for the past 3 and a half years. But quite strangely, we have managed to avoid eachother in any sort of competition until this season and I have to admit that this felt a bit weird at times...

Well by now, we have all read the papers, message boards etc, and perhaps even seen the goals? So I think the best way to do this one will be to basically, sum things up:

Even the most optimistic of Rangers fans could not have hoped for anything but a defeat last night, against arguably the best team in the Championship. Two nil after 40 minutes was probably a fair reflection of Albion's dominance but I think what changed the game was Damion Stewart's goal in first half stoppage time. After 45 minutes of being under the cosh, we were very much still in the mix!

On 48 minutes, we were level through Kevin Gallen and the game then went from end to end. Kamara restored Albion's lead 5 minutes later, which settled the Baggies down. To be truthful, they could and should have killed us off from here on, but Rangers fought, scrapped and battled away and got their reward seven minutes from time when Nygaard headed home.

Rangers: Royce, Bignot, Rehman, Gallen, Ainsworth, Lomas, Cook, Stewart, Blackstock (Nygaard 62), Smith, Mancienne Subs: Milanese, Ward, Rowlands, Jones

Lofty's Man of the Match - Simon Royce

What more can I say about this one? It was a great match and credit must go to both sides for playing football the way it should be played! I could go on about our defence etc, but I will put that aside for now and enjoy both the result and performance from the R's.

West Brom are a quality side and the best I have seen this season. But what was so pleasing was the pride and passion in the Rangers side and the never say die attitude, which undoubtedly, earned us a great away point!
©LOFTY