Sheffield with Stelling...
Sheff Weds 3-2 QPR

Rangers were yet again involved in a thrilling match, but this time were on the wrong end of a 5 goal thriller as a late penalty gave Wednesday the points.

Well, this was a game that I thought that Rangers were more than capable of getting a good result from and maybe even another away win. But then what goes and happens during the week?? Sheffield Wednesday sack Paul Sturrock which seems to virtually guarantee any team a win the next time they play!

Well work committments and trips to France, meant that none of the gang were going to make the trip to Hillsborough this afternoon. So with this is in mind and DJ mentioning that I struggle to stay awake during long trips home from away games, I also decided to give this one a miss. So come kick off time, I had the QPR world commentary on and was also in the company of the great Jeff Stelling and his cronies on Sky Sports.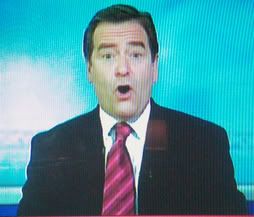 As the goals were flying in elsewhere, it seemed that Rangers were doing pretty well and also, had not conceded the customary goal in the first five minutes. But it all went wrong from there and by half time, Wednesday were two up, both goals from Tudgay(13 and 45). But despite the scoreline, the reports had been generally good for Rangers and it had been our defending that had let us down badly again.

Ten minutes into the second half, and we were level, both goals coming from Dexter Blackstock(49 and 53). My phone was then red hot with texts coming and going. Sadly, the next text I had to send was to say we were 3-2 down through what was reported as a very dubious penalty on 70 minutes. From then on, the game went from end to end and despite late chances for Rangers, there were no further positive messages for me to send out.




QPR: P Jones, Lomas, Stewart, Rehman, Bignot (Gallen 85), Rowlands (Ward 66), Bircham (Mancienne 44), Smith, Cook, Blackstock, R Jones. Subs: Royce, Rose.

Lofty's Man of the Match - taken from several different reports - Lee Cook

So, all in all, more disappointment from a game we could and should have won. Yet again, I seem to be writing this after every match, but the defending again was highly criticised and must be dealt with. We are scoring well enough at the moment, but we just can't continue conceding 2/3 goals every week and making things more than difficult for ourselves.

Leicester at home next Saturday for the R's - so I guess they will be sacking their manager during the week then...
©LOFTY