Shambles!!
Croatia 2-0 England

Well, I think the title says it all!

Two second half goals, including an embarrasing own goal, gave Croatia the victory that THEY predicted, but also deserved. Steve McClaren started with an experimental 3-5-2 system and the gamble turned into a disaster. From the off, it was more than evident that the players were not comfortable with it - 4,000 England fans in Zagreb could see it, the TV audience could see it, so why did it take McClaren 72 minutes to see it?!?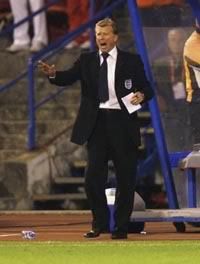 Not only were we two goals down when he made all 3 substitutions, but he left a clearly injured Ashley Cole on the pitch for the remainder of the game! Although the Croatians were dominant in the first half, England stifled their lively attack and Paul Robinson made some crucial saves to keep us in the game. Surely it would change second half? Answer - NO!

Eduardo's free header gave the Croatians a deserved lead on 61 minutes before further disaster - as Neville's back pass hit a divot and spun over Robinson's leg to roll into an empty net. England broke sporadically but to be truthful, rarely threatened all evening.

Lofty's Man of the Match - is cancelled for this report!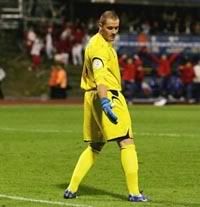 So all in all, a forgettable 2 games for England with two extremely poor performances. The worrying thing in both games, was that it was plainly obvious all was not well... so why take so long too change things?!?

I will end tonight by not saying that this is the answer, but when your first choice right sided midfielder is suspended, why not swallow some pride and do what is best for the team?!?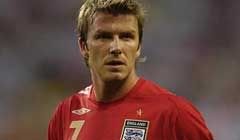 ©LOFTY