The Only Way is Up... I hope...
Colchester 2-1 QPR

Today's short trip up the A12 was a breath of fresh air compared to the long journeys we have encountered on our travels so far. Three of the gang travelled to Layer Road as Rangers went into the game now bottom of the Championship.

We arrived in good time and suprisingly to what seemed a hostile reception. There was a massive police presence and also, on arrival at the recommended pub, we were informed that no away fans were allowed - although they were quite happy to take our money and let us use their car park, to which we declined. With time on our side, we took a drive and found a pub called 'The Mayflower', which friendly atmosphere provided our pre match entertainment - including a few games of pool and some decent grub.

Those who have been to Layer Road will be the first to tell you (with respect) that it is somewhat smaller than most. I was intending to bring back the 'Pie Rating' for today's game. But the catering facilities where I was sitting, consisted of two young lads selling bottles of coke and such like from a cool bag and food from a portable hostess trolley - so I decided to give that one a miss.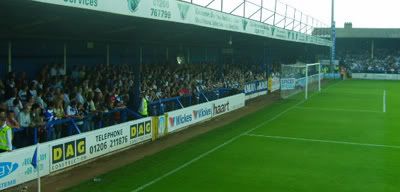 Colchester won the match 2-1 with goals from Iwelumo(9) and Garcia(18). Marc Nygaard's lob was helped on it's way into the net by Brown on 76 minutes to reduce the deficit. But it was no more than a consolation as despite some late pressure, Colchester held on.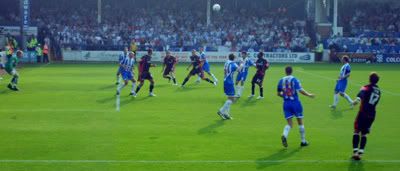 I have often found, that the Official QPR webpage seems to 'sugar coat' Rangers performances at times and I sometimes wonder if I had attended the same game. But todays report and Gary Waddock's quotes in particular, were spot on. So much so, that I will include his post match comments on here - they sum up Rangers performance today perfectly:
"I don't know where to start, where was the pride? Where was the passion?

I wasn't the best player, but in mine and Alan McDonald's day we knew what it meant to wear the shirt.

All I know is, we're bottom of the table and I don't like it one bit.

We didn't improve in the second half in my opinion; we were bad from start to finish.

Myself and Alan McDonald both said the same thing to the players after the game, they need to take a long, hard look at themselves."
I think you get the idea and feel I need go no further...

QPR: Cole, Milanese, Rehman, Stewart, Rose, Cook, Ward, Bircham, Baidoo (Donnelly 79), Nygaard, Jones (Czerkas 46) Subs: Kanyuka, Bignot, Bailey

Gang: Lofty, DJ and PK

Lofty's Man of the Match - Lee Cook - outstanding today!

Awayday Moments - has to be the Mayflower pub and probably, one of the longest games of pool in living history!
©LOFTY