A Ray of Light Breaks The Hoodoo...
QPR 3-2 Northampton - Carling Cup

Ray Jones picked a great time to score his first goal for the R's, as he headed home the winner to finally break the Northampton - and indeed Cup hoodoo!!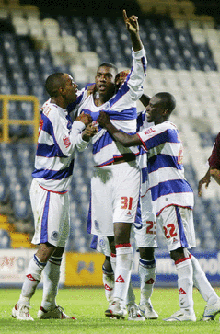 A makeshift side stormed into a 2 goal lead after 50 minutes through Lee Cook and Kevin Gallen. Cookie jinked through the Cobblers defence to fire home, with the help of a deflection on 17 minutes, and okay, we missed Gallens goal through finishing off our half time beer. But in true Northampton style, they fought their way back and were soon level through Watt(55) and Kirk(78) and it looked like the hoodoo would strike again!

Then with just 3 minutes to go, Blackstock teed up Bignot to cross perfectly for Ray Jones to head home a great goal! Rangers held on for the remaining 3 minutes, plus an incredible 5 minutes of stoppage time, to go into the 2nd Round - for only the second time in god knows how long?

Northampton gave a good account of themselves and created lots of chances, but Rangers kept plugging away and got the result that they just about deserved. But just how refreshing is it, to see 6 of the Rangers side on the pitch at the end of the game, who have progressed from the Youth team!

QPR: Cole, Bignot, Stewart (Kanyuka 90), Rehman, Howell, Baidoo, Bircham (R Jones 84), Bailey, Cook, Gallen (Oliseh 76), Blackstock. Subs: PJones, Donnelly.

Lofty's Man of the Match: Lee Cook

Forgive me for asking, but what happens now then? This was a Cup game right? And we won? So does that mean another game then? There will be a draw presumably???
So we now move onto Friday and our Sky clash with Ipswich. Could we now bury the Sky hoodoo as well? The omens don't look good though - Ipswich, yet to win this season and now also out of the League Cup! Oh well...

©LOFTY