Dream Team...
England 4-0 Greece

The McClaren/Venables England era got off to a winning start, as England finished where they left off from their last home game, with a comfortable win over Greece. We all know what happened in between...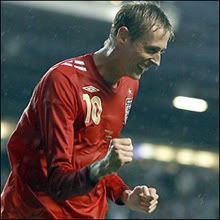 Goals from new Captain, John Terry, Frank Lampard and Peter Crouch(2) in 41 first half minutes, finished off the European Champions who were a shadow of the team they were 2 years ago. In fact, in the first half especially, they were pretty woeful. To be fair to them, they came into the game more in the second half, but the damage had long since been done.

England: Robinson (Kirkland 45), Gary Neville (Carragher 78), Ferdinand, Terry, Cole (Bridge 80), Gerrard (Bent 78), Lampard, Hargreaves, Downing (Lennon 69), Defoe (Richardson 69), Crouch.

Subs Not Used: Young, Phil Neville, Brown, Dawson, Jenas, Wright-Phillips, Foster.

Loftys Man of the Match - Owen Hargreaves

All in all, this was a good work out for the new look England before the forthcoming Euro Qualifiers. There were good performances throughout and little mention of the missing David Beckham - it may have been different had the result been less favourable.
©LOFTY