A Bad Day on the Claret...
Burnley 2-0 QPR

Two second half goals from Rangers summer transfer target, Steve Jones, gave Burnley an opening day victory. But Burnley didn't have it all their own way as Rangers had much the better of a lively first half.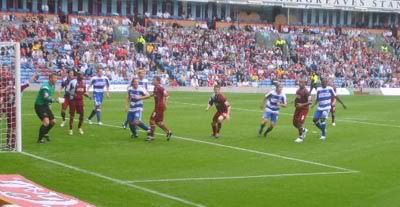 An impressive gang turn out of 6, all made an early start for the long journey ahead (despite DJ's lateness) and we all met up in the impressive Burnley Cricket Club for some pre match refreshment and discussion. Anyone travelling to Burnley this year, really should give this one a try. It is a stones throw away from the ground - somewhere to safely park the car - a nice, welcoming, friendly bar to have a drink and a bite to eat - and today we were also treated to a cricket match too! Highly recommended!
Onto the game, and as mentioned, Rangers had the better of the first half. New signings Nick Ward and Adam Czerkas impressed and both had good chances to give Rangers the lead. Burnleys only real game plan was a long punt over the top, which our new look back four seemed to be dealing with comfortably.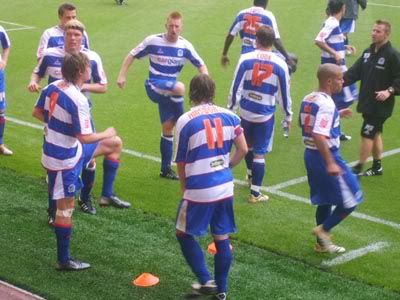 But in the second half, all the hard work went to waste as a terrible defensive mix up gifted the lead to Burnley on 58 minutes. Jones, Rose and Stewart all combined to let a loose ball fall into the path of Steve Jones who made no mistake.

The worrying thing then, was that Rangers seemed to have no answers and on 69 minutes , it was 2-0. Steve Jones was given the freedom of Turf Moor to run unchallenged to the edge of the box, and to be fair - finish quite superbly. The game was now over as a contest. Heartened Burnley pressed forward time and time again - and Rangers were now looking decidedly jaded and dare I say, unfit! Maybe an abbreviated pre season programme took it's toll, but it was worrying all the same. Especially after such a promising first half.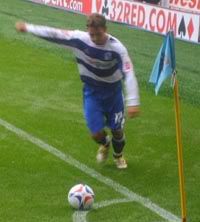 QPR: P Jones, Bignot, Stewart, Rose, Milanese, Ainsworth, Rowlands (Donnelly 78), Lomas (R Jones 65), Ward, Cook, Czerkas (Bircham 71). Subs: Cole, Kanyuka.

Gang: Lofty, PK, DJ, Corp, Alan and Darren - plus special guests, Gobi and Vicki.

Man of the Match : Nick Ward

Moments of Interest : sitting very near a Cliff Richard look a like, the Dan Shittu conversation and the game of head tennis at Corley Services. Yep, the football away day is back ;)
©LOFTY