A Ray of Light...
Gillingham 0-1 QPR

A Ray Jones goal was enough for Rangers today, in our last game before the players jet off to Italy to continue their pre season.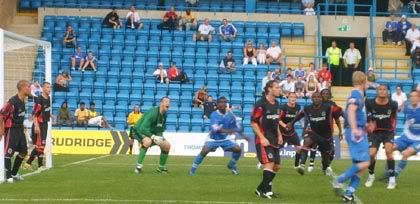 What is now becoming, the 'usual' three gang members, took the trip over to Kent. The M25 was it's normal, charming self, and we arrived at Priestfield with little to spare - although just enough time to sneak a quick beer in.
It was great to see Nick Ward make his long awaited R's debut, and a suprise, and a pleasant one, to see Dan Shittu in the Rangers back four. At first Dan wasn't listed in the original squad, adding fuel to the 'will he,won't he' stay saga. It was also rumoured, that he would NOT be travelling to Italy with the rest of the squad. So, seeing Dan has confused all the speculation somewhat, but nevertheless, it was great to see him out there.

Onto the game, which wasn't one for the purists and was a hard fought, battling performance against a plucky Gillingham side. Ray Jones scored his first goal for the R's first team on 70 minutes - with perhaps, a slightly fortunate stab which somehow found it's way into the net. The first half was the definite highlight, with Nick Ward shining in the Rangers midfield. Ward was denied a goal that his performance deserved by a great save from Homoet in the Gills goal. The second half continued to stop and start due to wholesale substitutions from both sides, but a good victory and a clean sheet all the same.

Performances of note came from Nick Ward, Kevin Gallen and my man of the match, Damion Stewart in the Rangers defence.

QPR: P Jones, Bignot (Bailey 44), Howell (Rose 46), Stewart, Shittu (Kanyuka 46), Ainsworth, Rowlands (Baidoo 72), Ward (Donnelly 46), Cook (Tchakounte 46), Nygaard (R Jones 46), Gallen.

Gang: Lofty, DJ and PK.
©LOFTY