It's Over...
England 0-0 Portugal (Portugal win 3-1 on pens)

So that's the end of another tournament for England, as we fell to our penalty shoot out curse again in the Quarter Finals!
Personally, the pain was lifted shortly after the match as many beverages were consumed at DJ Senior's Birthday party. A trip to Hyde Park yesterday to see 'The Who' also helped. But there is no question that England's failure to progress further than the last eight, again, was a MASSIVE dissappointment!

Writing the report 2 days after is probably a little easier, especially now I have calmed down a bit too. We have all seen the papers, the highlights, whatever?? But wouldn't you just love England to, perhaps, lose a match without all the controversy. Instead we are left yet again with lots of

'IF's'

... i.e. IF Rooney wasn't sent off, IF the referee wasn't Argentinian, IF Sven would have ditched the 4-5-1 system etc etc etc.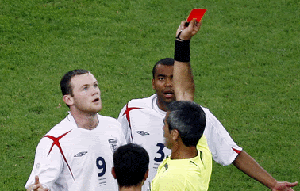 The incident involving Rooney was no more than a yellow card in my opinion. I have watched it over again and to me, he wasn't sent off for the alleged 'stamp', but for pushing who is probably now the most hated footballer in England. Now, to interfere with something that was nothing to do with him, and try to influence the referee, was bad enough... but to his own Clubmate??!!?? I could go on and on and call him every name under the sun, but instead, I will just post the picture below of Christiano Ronaldo in the position you see him in, week in and week out for Manchester United...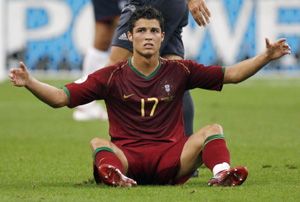 Anyway, at the end of the day, I could write forever, but it will change nothing. We are out of the World Cup. A tournament that promised so much for England, and one that I firmly believe the current squad of players could have won!
©LOFTY