The Hoodoo Continues...
Sweden 2-2 England

England finished top of World Cup Group B and will face Ecuador in the last 16 - but yet again, we failed to beat Sweden.

Henrik Larsson grabbed a last minute goal to claim a draw for the Swedes, who again caused England lots of problems. But this was the best game of football out of the three group games without a doubt.

Despite the early setback of Michael Owen's worrying knee injury, England played well, created chances and were deservedly in front on 34 minutes through a superb strike from Joe Cole.




But yet again for England, the second half was a different story. Sweden attacked us from the off and were soon level - Allback's flick on from a corner found it's way into the net, despite Ashley Cole's best efforts to keep it out. England then completely lost their way and set piece after set piece from Sweden, were continually causing problems - hitting the crossbar twice and having one cleared off the line.

But on 84 minutes, Steven Gerrard headed home a superb cross from Joe Cole and it looked like we were finally going to bury the Swedish hoodoo.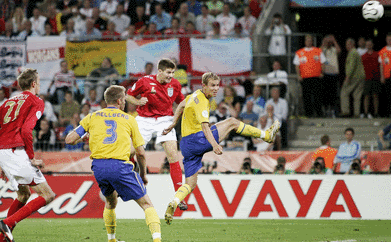 But as already mentioned, Larsson stabbed the ball home in the 90th minute after everyone in the England defence had missed the long throw.

England: Robinson, Carragher, Ferdinand (Campbell 56), Terry, Ashley Cole, Beckham, Lampard, Hargreaves, Joe Cole, Rooney (Gerrard 69), Owen (Crouch 4).

Lofty's Man of the Match : Joe Cole

The worrying things for England now, are the injury to Michael Owen, who has a twisted knee scanned tomorrow. The worry being, the lack of attacking options for England. Also, our failure to deal with set pieces. There is no doubt it will be something Ecuador will be focusing on before Sundays match.

It also looks more and more likely that Eriksson is NOT going to play Theo Walcott...

So Sven, why exactly did you take him to Germany??
©LOFTY