The Late Show...
England 2-0 Trinidad and Tobago

Two late goals from Peter Crouch (83) and Steven Gerrard (90) fired England into the knockout stages of the 2006 World Cup.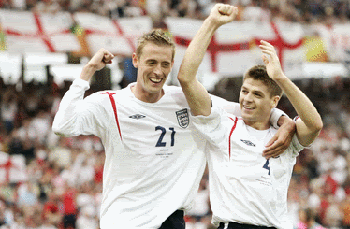 England struggled for long periods to break down a hard working Trinidad and Tobago side, who for most of the match, played with 9 men behind the ball. They also caused a scare or two, with John Terry coming to England's rescue on more than one occasion.

But just when we thought the game would fizzle out into a goaless draw, a pinpoint cross from Beckham, found Peter Crouch on the far post to power his header home - a good old fashioned English goal if ever I have seen one!

Trinidad had nothing left in the tank, and the game was made safe on 90 minutes as Steven Gerrard scored what is, a trademark goal for him - firing into the right hand corner.

Okay, yet again, this wasn't by any means a vintage performance, but England were dominant throughout, created chances and their patience paid off in the end.

Lofty's Man of the Match - Jonn Terry

The main positives from the game are the earlier than predicted appearance of Wayne Rooney...




...the performance of Aaron Lennon as substitute, and the fact that after 2 games and 6 points - England have qualified for the second round - and we haven't even started to play anywhere near our best yet!

As for the negatives, well I will leave that to the ITV commentary and pundit team, who were on the players backs from the kick off!!
©LOFTY