Job Done...
England 1-0 Ecuador

David Beckham fired England into the World Cup Quarter Finals with a fantastic 30 yard free kick on 60 minutes.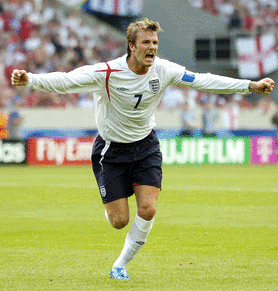 Beckham became the first ever England player to score at 3 seperate World Cup Finals, as his free kick bent over the wall, into the bottom right hand corner of the Ecuador net.

This was a professional, patient and at times, tense performance from England, who were playing a new 4-1-4-1 formation - with Carrick coming in playing a holding role in midfield, leaving Wayne Rooney as the lone striker.

Overall, England were comfortable, but survived a few scares along the way. One of great note, was after a rare mistake from John Terry. His mis-timed header, left Tenorio clean through. His shot would have surely hit the net, but from a sensational tackle from Ashley Cole, deflecting the shot onto the bar.

After the goal, the tension was lifted from Englnad, who went on to create a hatful of chances. But in the end, one goal was enough against a team, in all fairness, who were here for the draw and penalties... and not to play football.

England: Robinson, Hargreaves, Terry, Ferdinand, Ashley Cole, Beckham (Lennon 87), Carrick, Gerrard (Downing 90), Lampard, Joe Cole (Carragher 77), Rooney.

Now, I have had many discussions with both friends and colleagues about David Beckham in this World Cup and I for one, am fully behind the England Captain. Okay, he has not been at his best by eany means, but all it takes is one sheer moment of quality, for which he has delivered! In the games against Paraguay, Trinidad and Tobago and now Ecuador, that killer ball, or in today's game, the goal, have been match winners!

Performances of note also came from Ashley Cole and Michael Carrick. Carrick would have been my man of the match choice, but for one man, who never stopped running all afternoon, and was at the heart of most of the creative stuff from England...

Lofty's Man of the Match: Wayne Rooney

Stop Press - World Cup Quarter Final - ENGLAND v PORTUGAL!!
©LOFTY