News Round Up...
So, our latest Cup defeat has been drawn today.
Carling Cup First Round

Q.P.R. v Northampton Town
- week commencing 21st August 2006
So we have been drawn against our 'bogey' side for the second year running! Well, at least we are home this time, but all I can say to this is - OH COBBLERS!!
Also, staying with Club news, our final pre season friendly was announced today. The full line up is as follows:
July 8 - Aldershot v QPR
July 19 - Stevenage v QPR
July 22 - Gillingham v QPR
July 25 - Cavese FC v QPR
July 28 - Sorrento FC v QPR
I'm glad we have some nice 'Glamour' games there to get us in the mood for the season ahead!!
Michael Owen
The sad, but let's face it, expected news was that Michael Owen is out of the World Cup.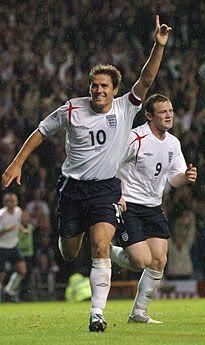 The knee injury sustained in the Sweden game, was confirmed, after a scan as a ruptured cruciate ligament which means he will be out for about 4-5 months.
Get well soon Michael!
On a lighter note, I spoke with Corporate earlier this evening who has explained the thoery behind Sven Goran Eriksson's decision to take young starlet, Theo Walcott to Germany...
"He has screwed his way around several women in England. He has screwed the F.A. for many millions. He has screwed the England football team in his time in charge... and finally, he is now about to screw the biggest young talent in England since Wayne Rooney"
©LOFTY