Familiar...
Aldershot 1-1 QPR
With the World Cup not quite finished yet, it was suprising that the friendlies had begun so early for Rangers. Out of the gang, only myself and DJ took the chance to see, what was hoping to be a new look Rangers.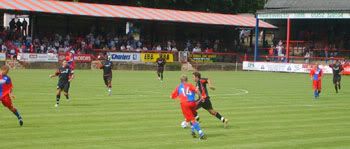 But as it was, it turned out to be no more than a training match/run out for the R's, with more or less a different team each half. A few trialists were on show, as well as Armel our new Cameroon International. There was aslo a few that perhaps we didn't expect to see - transfer listed Bignot, Lomas, Evatt and Doherty. It was Doherty that gave Rangers the lead in the first half with a perfectly executed free kick from 25 yards.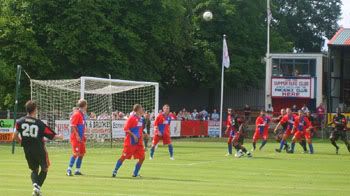 Aldershot levelled the score late on and deservedly so, but I left the game thinking that it all looked so familiar. Okay, it was only a friendly and your never going to see a classic football match. Or maybe, we have been spoilt by a fantastic World Cup tournament. But Rangers played some good stuff and times, playing from the back, passed the ball well and used the wings - but as so many times seen last season, there was no end product. There are a few weeks before the season starts and hopefully, a new front man must be a priority signing for us!

QPR first half:
Thomas, Bignot, Tonkin, Armel, Tobi, Kanyuka, Ainsworth, Olisen, Moore, Doherty, Baidoo
QPR second half:
Thomas, Kanyuka (Tobi), Munday, Cook, Evatt, Lomas, Donnelly, Gallen, Bailey, Trialist, Hislop
©LOFTY