Promise...
Stevenage 1-4 QPR

Rangers ran out comfortable winners in what was a promising display against Conference side Stevenage.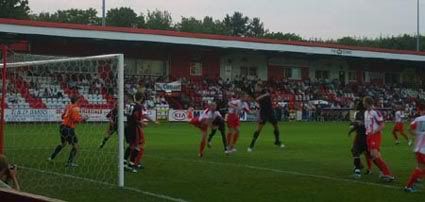 DJ, PK and myself made the short trip up the A1 for the second friendly and a stronger Rangers side that the one at Aldershot, included 3 of our 5 new signings - Damion Stewart, Egutu Oliseh and Adam Czerkas. We were then treated to a great 1st half with two fantastic goals from the R's - A 35 yard screamer from Ainsworth on 17 minutes, and a delightful curler into the top corner from Donnelly on 32 minutes. A well taken goal from Dobson in between(21 mins) meant that Rangers were leading 2-1 at the break.

The second half saw a few changes and Rangers took control. Two well taken goals from Captain, Kevin Gallen saw Rangers end up comfortable winners.
QPR: P Jones (Cole 58), Bignot, Stewart (Rose 58), Kanyuka, Howell, Ainsworth, Oliseh (Bailey, 40), Rowlands (R Jones 58), Donnelly, Czerkas (Baidoo 58), Gallen.

Performances of note came from Ainsworth and Donnelly, and second half subs Baidoo and Jones looking very lively up front. Gallen looked much sharper than at Aldershot and took his 2 goals well.

A healthy Rangers following included friends of Lofty Heights, Gobi and Corinne - great to see you again guys.

Rangers now travel to Gillingham on Saturday for our final friendly before the Italian games. Hopefully, we will get to see the highly anticipated debut of Nick Ward in the Rangers midfield.
©LOFTY