Blackstock and Two Smoking Barrels...
Dextor Blackstock has today signed for the R's from Southampton on a 3 year contract. Although undisclosed, the fee is believed to be around the £500,000 mark.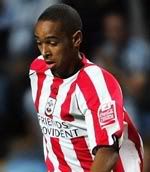 Rangers beat off competition from several other clubs to sign the 20 year old forward. Blackstock is due to make his debut against Southend on Saturday which hopefully means a 4-4-2 line up.

But as myself and the gang discussed last night - who will make way? Nick Ward will drop back into his normal midfield role, but for who? Rowlands, Cook, Ainsworth or Lomas? Also, who will get the nod up front with Baidoo and Jones combining so well? Czerkas and now of course, Blackstock??
Over to you Mr Waddock ;)
Welcome and Good Luck Dextor!!
©LOFTY