The Right Formula...
QPR 2-2 Leeds

Rangers twice came from behind to earn their first point of the season, in an enthralling game at Loftus Road.

Unchanged from Saturday, Rangers made most of the early running, but Leeds ended the half piling on the pressure, and perhaps just about shaded a goaless first half. You could sense that a Leeds goal was coming and on 65 minutes, they took the lead through Eddie Lewis - forcing home the rebound after Healy's header hit the bar. The Rangers formation then changed to 4-4-2 and when Baidoo was introduced on 76 minutes, the game changed.

It wasn't long before Rangers were level when Martin Rowlands fired home from the spot after Ainsworth was bundled over in the box. But no sooner had we finished celebrating, then Leeds were back in front - Horsefield had all the time in the world to stab home Stone's knock down.

It was then all Rangers as we really started to look dangerous. Ray Jones missed a glorious chance on 89 minutes and we all thought that was it. But in the 90th minute, Ainsworth chased a seemingly lost cause, and turned the ball back to Baidoo to turn the ball home from 2 yards out. Loftus Road erupted, and almost had a winner to celebrate in injury time as the luckless Ray Jones fired wide.

QPR: P Jones, Bignot (Baidoo 76), Rose, Stewart, Milanese, Ainsworth, Lomas, Rowlands (Bircham 89), Cook, Ward, Czerkas (Jones 54). Subs: Cole, Kanyuka.

Gang: Lofty, Corp, PK, DJ and Phil

Man of the Match: Martin Rowlands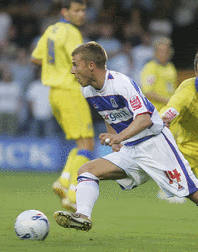 So an amazing end to the game brought Rangers first point of the season. The transformation when Rangers changed to 4-4-2 was incredible - we looked a good side and were so dangerous coming forward. At 4-4-1-1, or 4-5-1... it just didn't seem to work for us and I don't think Adam Czerkas relishes the role of the lone striker. Nor does Nick Ward playing just behind him. We shall see...

It's great to be back!!

©LOFTY