So Last Year...
Preston 1-1 QPR

From start to finish, this was just all too familiar. As per last season, there was a trip to Blackpool for the gang to coincide with the visit to Deepdale - and not only did the game have the same scoreline as last season, it had the same referee and the same heartbreak for Rangers fans with a late Preston equaliser. The only difference this time, is that we finally got to visit the National Football Museum.

It all started so well for Rangers when Ainsworth cleverly volleyed in a knock down from a Lee Cook corner to put us one up. Rowlands went off injured after 15 minutes, but Rangers continued to dominate and create chances. Preston started to come into the game late in the first half and created two excellent opportunities.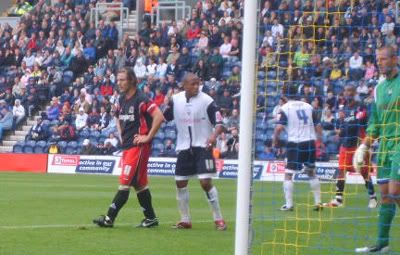 The second half largely belonged to Preston as it seemed Rangers looked to protect what they had got. But attack after attack was comfortably being dealt with by Rehman and Stewart at the back. Rangers were breaking sporadically, but you just couldn't help feeling that an equaliser was on the cards... and on 87 minutes it came. Paul McKenna produced a moment of magic (sorry!) to head home a cross from the left.

I along with many others in the Rangers end, would have certainly taken a draw at the start of the game, but you just couldn't help being disappointed. To be fair, Preston probably deserved the point, but it was another case of what might have been?

QPR: P Jones, Milanese, Stewart, Rehman, Rose, Ainsworth (Baidoo 90), Ward, Rowlands (Lomas 10), Cook, R Jones (Gallen 86), Blackstock Subs: Cole, Kanyuka

Gang: Lofty, PK, DJ and Special Guests Gobi and Corinne

Lofty's Man of The Match - Zesh Rehman

Awayday Moments - the night out in Blackpool, the visit to the Footy Museum, the classic table football clash (Lofty 4-1 DJ) and not forgetting, the mention of Gaz's band - Dog Ate The Spoon!
.
©LOFTY