The Dogs Return...
Last night, the gang descended on Harrow Town Cricket Club for the return of Dog Chewed The Handle.
The band have had a break since May, partially due to the loss of their drummer, Ivan. But they returned to Harrow last night, for an 'intimate' gig to announce the new drummer, Chalky - who had more than a passing resemblance to Babyshambles frontman, and Rangers fan, Pete Doherty.
As soon as the gig got under way, it was clear that the time away for the band had been well spent, as they kicked into a fantastic set! The small venue had almost perfect acoustics and the sound quality was not only loud, but amazing! There were a few new renditions on offer too, including the Automatics 'Monster' and the classic Clash anthem ' I Fought The Law' - both of which were delivered superbly. My personal highlight was the absolute banging version of The Who's 'I Can't Explain', which after seeing Daltry and Townshend in Hyde Park recently, was still very fond in the memory!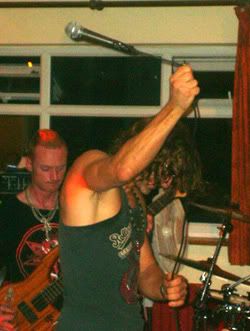 To sum up, it was another fantastic evening of rock and roll. Chalky had a good first gig and looked very much at home... a fine addition! It was a great warm up gig, if you like, for the forthcoming return to the Crown and Treaty in Uxbridge.

I predict a riot...
©LOFTY