The Curse Continues...
QPR 1-3 Ipswich

Things are generally going well! The team have got off to a positive start to the season, the new signings are bedding in well, we finally win a Cup game and then what happens...

...the Sky Sports Cameras come to Loftus Road and yes, you guessed it, the R's produce the mandatory shocking performance in front of the watching nation.

The first half was even enough, with chances falling to both sides, the best falling to Blackstock who fired straight at the keeper when clean through. Confidence was high amongst the Rangers faithful as the second half started, but just as Ipswich were starting to get the better of things, Rangers took the lead on 57 minutes - Gallen bundling home the ball from a Blackstock cross.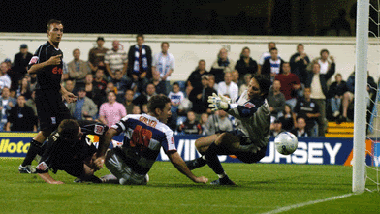 Sadly, the lead lasted just 4 minutes as the Tractor Boys drew level with what looked a dubious penalty. Gavin Williams went over after Stewarts challenge and Walton stepped up to score. It looked a bad decision from where we were sitting, and the pictures from Sky confirmed it!

However, the goal spurred Ipswich on as Rangers heads went down, and static defending from a corner saw De Vos arrived unmarked to give Ipswich the lead. Baidoo and Bircham then entered the play and Rangers started to look more lively, but Bowditch added to a miserable night for the R's by heading home the third on 86 minutes.

QPR: P Jones, Rose, Rehman, Stewart, Milanese (Baidoo 76), Gallen, Lomas (Bircham 71), Ward, Cook, Blackstock, R Jones. Subs: Cole, Kanyuka, Oliseh.

Lofty's Man of the Match - Nick Ward

The only positive about tonight, was that we had the chance to put the memory of this performance to bed very quickly, as Corporate, DJ and myself joined Gobi, Corinne and friends in the Walkabout pub, Shepherds Bush!

Rangers are not scheduled for another live game as yet, and I really hope the cameras stay well away from Loftus Road. We now have an International break and have to live with this performance for a further 2 weeks until we make the long trip to Plymouth and a certain, Mr Ian Holloway!

©LOFTY