Almost Embarrassing...
England 5-0 Andorra

England got their Euro 2008 campaign off to a winning start, with a more than comfortable victory at Old Trafford this afternoon.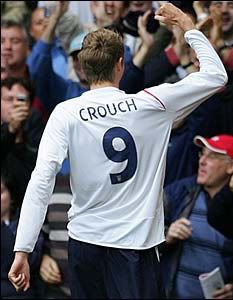 Goals from Peter Crouch(2), Jermain Defoe(2) and Steve Gerrard sealed the victory against what was probably the worst International team I have seen for a long time. Okay, so you can only beat what is put in front of you, and England went about their job playing some good football along the way and scoring some good goals...

... BUT this was such an easy game (and yes, there IS such a thing as an easy International), it at times, became extremely boring to watch. Andorra only occasionally got out of England's half and I really can't remember Paul Robinson even touching the ball, let alone having a shot to save!

England: Robinson, Neville, Brown, Terry, Cole, Gerrard, Hargreaves, Lampard, Downing, Crouch, Defoe. Subs: Kirkland, Dawson, Carrick, Richardson, Lennon, Bent, Johnson.

Lofty's Man of the Match - Owen Hargreaves

I really find it hard to believe, that England win 5-0 and I am disappointed. At least Macedonia on Wednesday, are better opposition and it should be a better game of football.
©LOFTY