A Win is a Win...
Macedonia 0-1 England

A goal from Peter Crouch in the first minute of the second half, was enough for England in a battling performance in Macedonia.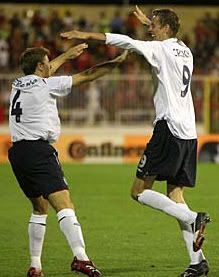 Crouch made it 11 goals in 14 England games, crashing home Lampard's cross via the crossbar. The ball clearly crossed the line but bounced out again, but it was a relief when the referee finally pointed towards the centre circle to award the goal - as previously, he had penalised almost every move Crouch made. He even turned away the most blatant of penalty appeals in the first half as Crouch was practically wrestled to the ground.

Overall, it wasn't the goal festival that we have been treated to under McClaren so far, but it was a solid and battling away performance from England. As expected, Macedonia were tough opponents and in the second half, gave England a few scares - including a late goalmouth scramble that was eventually cleared at the second attempt, by Ashley Cole.

England: Robinson, Neville, Terry, Ferdinand, Cole, Gerrard, Hargreaves, Lampard, Downing, Crouch, Defoe. Subs: Foster, Bridge, Brown, Carrick, Lennon, Bent, Johnson.

Lofty's Man of the Match - John Terry

Going back to my previous report on the Andorra game, and stating that there are still indeed some easy International games, the result from San Marino has gone a long way to proving the point - San Marino 0-13 Germany!!
©LOFTY