Friends Reunited...
Plymouth 1-1 QPR

Those lovely people at the F.A. provided us with yet another mammoth journey, this time down to Devon and this time, to meet up with our old friend, Ian Holloway and his Plymouth Argyle side.

Four of the loyal gang made the trip which was pleasantly broken up with a mini PSP football tournament between myself, DJ and Phil. I won't go on and bore you all with the details and results of the games played, but thanks to young Phil for bringing it along and a note to self: I MUST get one of these PSP things!

Quite suprisingly, little was made about the 'Ian Holloway' connection. What we thought may be an emotional re-union, was little more than some appreciative chanting from the R's fans, and a polite wave from Ollie himself.

So putting all that aside, the game got underway and overall, it probably wasn't one for the purists and at times got quite scrappy and niggly. Rangers good early work was rewarded with a goal on 16 minutes. Cook's cross found Dexter Blackstock, who poked the ball through the keepers legs to give Rangers the lead.

But as so many other times this season, Rangers then seemed to lose their way after going ahead. A terrible mix up from Jones and Rehman, gifted a chance to the impressive Ebanks-Blake - who cooly slotted home on 31 minutes. More shambloic defending followed from Rangers and Plymouth should have been home and dry at half time.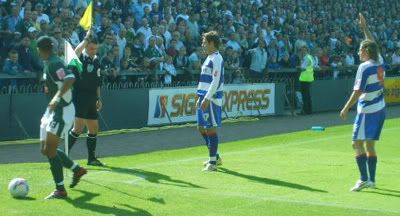 The second half was a scrappy affair and if anything, Plymouth were looking the more likely. Rangers best chance of the half fell to Nygaard, who brought a decent save from McCormick.

To sum up, this was a decent away point for Rangers. But not for the first time this season, you just couldn't help feeling just a bit disappointed. Rangers have been ahead in the last 3 league games - and have just 2 points to show for it. It is also a concern just how much we miss Ainsworth and Rowlands when they are not playing.

QPR: P Jones, Rose, Rehman, Stewart, Milanese, Oliseh, Ward, Bircham (Lomas 76), Cook, Nygaard (Gallen 95), Blackstock (R Jones 88). Subs: Cole, Kanyuka.

Gang: Lofty, PK, DJ and Phil

Lofty's Man of the Match - Marc Bircham

Awayday Moments - the PSP tournament, the Porn Star Plymouth Policemen and of course - the famous Plymouth 'Belly Buster'!
©LOFTY