What's That Coming Over The Hill??
Over to guest reporter 'DJ' for a review of the Dog Chewed The Handle gig last Saturday:
The Dogs B******s
The regular Dog Chewed The Handle groupies spent Saturday night at the Crown and Treaty in Uxbridge – fully expecting and a banging night out with the reappearance of DCTH – and we were NOT disappointed.
Arriving at the Crown early to avoid the expected queues meant that we were more than ready to party when the band took the stage. DCTH went through a classic set list, covering everything from The Black Crowe's to Black Sabbath and The Kaiser Chiefs to The Killers.
After many gigs now, the band are tighter than ever as a unit and Gareth on vocals (who seems to be getting better and better) is the perfect rock and roll front man – energy, attitude and performance!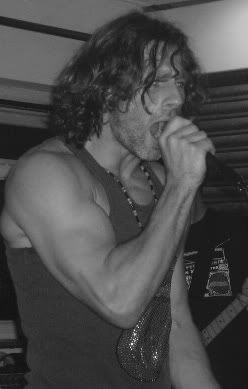 The highlight for me was the rocking version of 'I Predict a riot' (which always threatens to give me a heart attack) and watching Bignot and Cook strut their stuff to the Arctic Monkeys!
Cheers for a great night Gaz and the Boys - see you at the next gig!
©DJ