Wad Do You Do??
I grew up in the era when Gary Waddock was strutting his stuff in the Rangers midfield. He is a hero of mine and a Rangers legend without a doubt. I was also delighted when he took over our beloved Club last season and have given him my full support. I have read the message boards, argued with mates etc in support of our Manager.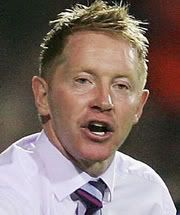 But after the Colchester debacle, I really am in two minds. I mean, the stats speak for themselves:

Under Waddock - Played 23, Won 4, Drawn 9, Lost 10

There you go, we escaped relegation by the skin of our teeth last season and we are now sitting at the bottom of the Championship with just 8 games gone.

Fair enough, he publically wanted to be judged on 'his' team. His team are now bottom off the league. The pre season schedule was a joke, along with the shambles that was the Italian tour. Wholesale changes have been made throughout the Club, along with transfer listed players currently playing in the first team squad.

Anyway, just a few thoughts I thought I would share. Basically, it is obvious that something is not right at QPR and it needs sorting out, and soon!!

For those who didn't know, this is our worst league start to the season since 1998 when Ray Harford lasted just 9 games. Bryan Robson went today and his record isn't nearly as bad.

Personally, I don't think Waddock will be around much longer either and the reputation of a Rangers legend will be ruined forever. But are matters on the pitch all that is wrong at QPR at the moment...

Comments appreciated.
©LOFTY