No Surprise that Rangers Fail at Vale...
Port Vale 3-2 QPR

The performance at Colchester last Saturday, made my decision not to travel to Vale Park tonight and I have to be truthful and say, that I haven't felt like this at all in the last two seasons. In fact, it was no surprise at all that none of the gang made the journey. Never have I been so convinced of a Rangers defeat than tonight and sadly, I was proved right.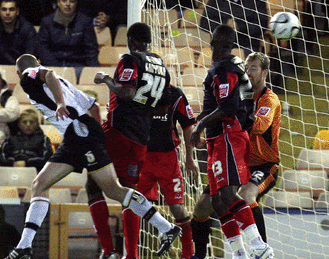 I started watching Soccer Special on Sky Sports to start with. But with no Jeff Stelling tonight, I decided to listen to the commentary on the radio, by which time, we were 2-1 down - Marc Nygaard scored for the R's.

I have to say, listening to the commentary was almost as bad as being there and with the commentators saying things like - QPR have lost there way - QPR are like a tortoise that has gone back into it's shell - more shambolic defending - Rangers are commiting footballing suicide - it seemed that normal service had been resumed.

It took Port Vale to score their third on 61 minutes for Rangers to finally wake up. But despite some late pressure and Damion Stewart's first goal for the Club, yet again it was too little, too late.

QPR: Cole, Bignot, Stewart, Kanyuka, Milanese (Rose 46), Ward (Baidoo 71), Bircham, Bailey, Cook, Czerkas, Nygaard (Jones 44). Subs: Rehman, Donnelly.

I can't really add a lot more as I wasn't at the game, but to say I am deeply disappointed, yet again, is an understatement.

Serious question, how long has Waddock got now?
©LOFTY