Gregory Chews The Tigers...
QPR 2-0 Hull

For the second week running, the report is delayed until Sunday morning. Last week, Rangers literally drove us to go out and have a drink. But this week, it was a celebratory drink combined with a trip to Uxbridge to see Dog Chewed The Handle - in which along with frontman Gareth Ainsworth - Lee Cook, Marcus Bignot and Scott Donnelly were out to celebrate and also show us their moves on the dancefloor - enough said about that one!

The day started a bit more upbeat than of late, along with the hope that the 'new Manager syndrome' would guide us to 3 desperately needed points.

In fact, with all due respect, Hull were probably the best opponents for John Gregory's opening game. The return of Martin Rowlands was also a huge boost. But the first half sadly had the look of two teams at the bottom of the table. Rangers had the edge, but were finding it hard to come to terms with Hull's physical approach.

Rangers stepped up a gear in the second half and finally broke the deadlock on 60 minutes through Ray Jones - heading home Blackstock's knockdown from close range and you could just feel the relief around the stadium. Ten minutes later, and the game was safe - Blackstock heading home Cook's cross - a fine goal which even had John Gregory dancing along the touchline.

QPR: P Jones,Bignot, Rehman, Stewart, Rose (Kanyuka 46), Rowlands, Bailey (Lomas 64), Bircham (Ward 64), Cook, R Jones, Blackstock. Subs: Royce, Baidoo.

Lofty's Man of the Match - Martin Rowlands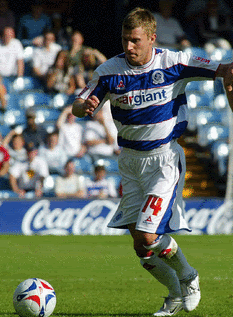 So, a decent second half performance gave Rangers the win they deserved and a fantastic start to the Gregory era. The return of Rowlands was a huge plus, but it was great to see the heart and passion return and to see how much scoring the goals meant to Jones and Blackstock.

©LOFTY