Refreshing...
QPR 3-3 Norwich

After an International break and two dismal performances from the England team, it was so refreshing to get back to league action - and what a match to come back too!

This always had the makings of a good match, with Rangers coming of the back of two wins and Norwich, wanting to impress their new boss, Peter Grant who was watching from the stands. It was end to end stuff all the way and probably one of the best games of football we will see this season. The best way to report this one and probably the easiest seeing as I am writing this on Sunday morning after a great night out and more than several beers - is to simply just go through the goals:

4 mins - some neat passing saw Darren Huckerby clean through and cooly slotting home.

24 mins - Lee Cook found Jimmy Smith on the edge of the box who finished superbly.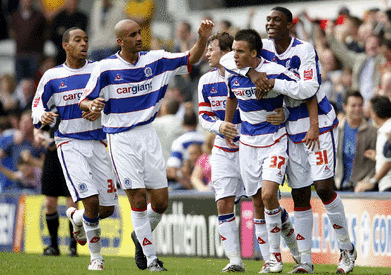 45 mins - Blackstock was fouled on the edge of the box and Martin Rowlands fired home an unstoppable drive from the resulting free kick. Okay, I went to get the half time refreshments and missed this one and have just had to catch it on the 'Championship' - Ooops!!

72 mins - the scores are level as Dion Dublin finishes of a fine footballing move to score another customary goal against us.

84 mins - Huckerby capitalised on Rehman's mistake and was bundled over in the box by the Rangers centre back. Earnshaw stepped up to slot home his customary goal against us from the penalty spot.

90 mins - Rowlands fire home from a narrow angle to give Rangers a share of the points.

QPR: P Jones, Bignot, Rehman, Stewart, Lomas (Rose 90), Cook, Bircham, Smith, Rowlands, Blackstock, R Jones (Gallen 76). Subs: Royce, Ward, Bailey.

A draw was a fair result really as both sides contributed to a great game of football. Some of Rangers defending was disappointing yet again, despite being another re shuffled back four. But at times we were playing some superb football and you just could not fault the midfield four of Cook, Smith, Rowlands and Bircham, who were all outstanding. It was also so pleasing to see the character in the team, who twice came back from behind.

Lofty's Man of the Match - this could have been the whole Rangers midfield, but his two goals clinched it - Martin Rowlands

©LOFTY