That's Entertainment...
QPR 4-2 Palace

Well, it certainly isn't dull being a QPR fan at the moment! Defensively, we have been poor but going forward, we have been fantastic - which all leads to a recipe of goals. One things for sure since Gregory has taken over, is that you are almost guaranteed entertainment, which is an absolute joy to watch, but not so good on the blood pressure! The main difference today was that Rangers scored more than they conceded, and what a game it was!

In fact, things had improved from the start, as it took Palace a massive 30 minutes before they took the lead through Soares. But as seen many times over the past few weeks, Rangers fought back and were level through yet another screamer from 'Chelsea Reject', Jimmy Smith. This boy just does not 'do' tap ins! Well, not till a bit later on anyway!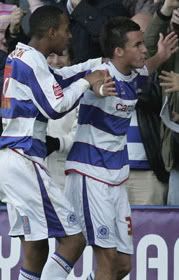 Rangers again made it difficult for himself by conceding a soft goal just before half time through Clinton Morrison, but it set the stage for an amazing second half performance from Rangers!

Steve Lomas levelled the scores on 59 minutes, before the outstanding Lee Cook left 3 Palace defenders bamboozled before being felled in the box on 65 minutes - Kevin Gallen cooly sent the keeper the wrong way. But Rangers weren't finished there as Jimmy Smith blew his reputation to pieces, by suprisingly just tapping home Gallen's flick on from Cook's corner on 69!

QPR: Royce, Bignot, Rehman, Gallen (Nygaard 81), Ainsworth, Lomas, Cook, Stewart, Blackstock, Smith (Ward 91), Mancienne. Subs: P Jones, Milanese, Rose.

Lofty's Man of the Match - Lee Cook - even two goals from Jimmy Smith couldn't outshine a simply outstanding display!

I thought that the Norwich and West Brom games would be hard to beat for entertainment value. But for me, this one tops the lot, simply because Rangers got the right result and the result that they deserved! It does make me wonder when will be the next time we see Rangers grind out a scrappy 1-0 win? It also makes me think that if we could tighten things up at the back, what a team we would be?!?

The celebrations were then taken to the Crown and Treaty in Uxbridge for the Dog Chewed The Handle gig. Gaz took his good performance on the pitch, onto the stage with him and another great night was had by all. The band also treated us to some of their own material and all I can say after hearing the three tracks performed live is - watch this space!!
©LOFTY